Think about this for a moment: How often have you bought or booked something after getting an email from a brand or company?
Probably several times…
And you're not alone. Many people do so on a regular basis because it's easy and fun. That's why email marketing is one of the most effective marketing channels today, according to the Wall Street Journal. 
Take advantage of this to promote your hotel. Get creative and leverage the guest contact data you already have in your system.
From saving on distribution costs to growing brand awareness and scaling your outreach to new and repeat guests, discover the benefits email marketing can offer your hotel.
What is email marketing?
Broadly defined, email marketing is a form of direct marketing. It means sending promotional or commercial emails to people who have given you permission to do so. In the marketing world, these contacts are known as your list, your subscribers or your email database.
Why is email marketing a powerful tool for hotels?
Research shows that email is the most effective marketing channel today with an average ROI of 36. That means for every $1 you spend on email marketing, you can generate an impressive $36 of revenue. And yes, that beats all other types of promotion including social media or paid ads.
There are several reasons why email performs so well. First, it's a highly accepted form of communication among all demographics from Baby Boomers to GenZ. That means you can use this single channel to reach a wide variety of age groups.
For many people, email feels less invasive than cold calls, SMS or social media marketing. But since you regularly get right in front of your target audience in their inbox, emails offer a powerful way to build and nurture relationships.
Email is also highly customisable and flexible. You can schedule and automate it to reach the right person with the right message at the right time during their customer journey. For example, after sending your usual hotel confirmation email, you can follow up with a hotel pre-arrival email full of special offers and useful information.
Finally, you can create targeted campaigns for different guest segments (e.g. repeat clients, one-time guests, new subscribers, various age groups…) to promote specific deals to certain target groups.
All this makes email extremely effective at driving qualified traffic to your website and generating more commission-free direct bookings.
Finally, let's not forget the data and analytics side. With email, it's easy to test new promotions or message styles. Results are clearly measurable and offer insights into where you're doing well and where you should improve.
The increased relevance of email marketing today
Overall demand is still lower than pre-pandemic in many markets, partly because international travel has not returned to pre-Covid levels. It will likely stay that way for a while since many people are still keener on travelling closer to home.
In this situation, it's especially important to leverage the connection you have with past guests. Particularly loyal clients who live nearby and can come by car or train are an invaluable source of business today.
Use email to stay in touch with them and build a stronger relationship with people who have expressed an interest in your hotel. This creates chances to generate more high-value direct bookings that will help get your business through these tough times.
Here, the high ROI and comparatively low cost of hotel email marketing has another enormous benefit. Since this form of promotion is so cost-effective, it remains viable even if you're working with a slashed marketing budget. 
How to get started with email marketing at your hotel
A good email management system lays the foundation for your email marketing. It allows you to keep your list organised and to control your email marketing campaigns.
A generic provider like MailChimp or Mailerlite can be good when getting your feet wet. While these cost-effective email marketing tools offer important basic capabilities, they're limited when it comes to leveraging the guest data saved in your PMS. Since this is the key to creating highly personalised and targeted campaigns, a more sophisticated solution is needed if you want to get serious about email marketing.
This is where a specialised customer relationship management solution (CRM) for the hospitality industry comes in.
It automatically pulls guest data from your PMS via a two-way integration. This includes information such as the number and length of previous stays, which package or rate code they booked, their birthdate, age, party size (e.g. couples or families with kids) and any other relevant details.
With this data, you can implement a targeted email marketing strategy, segment guests and ensure they only receive relevant emails. This leads to increased open rates, more engagement, boosted email conversion rates and a higher return on investment.
How to gain more subscribers for your hotel
You probably already have a lot of emails saved in your PMS from past and current guests. They can form the base of your email list.
Next, it's time to grow your list of subscribers. Here are a few easy options to consider:
Add sign-up boxes to your website and offer site visitors a perk (e.g. a small discount for their booking or a destination guide) for sharing their email address. This works well among people in the planning process but not for current or past guests as they rarely return to the hotel's website.
Set up a Wi-Fi restriction. Ask for a person's email address when they sign in to your hotel's public Wi-Fi and add a checkbox that lets them sign up for your list. This helps you get sign-ups from both in-house guests as well as outside clients visiting dining venues or the spa.
Have your receptionists ask guests if they want to subscribe during check-in or -out. While this can bring results, the manual data entry means more work for your team. Here, it's also hard to prove that the guest opted in unless you store the paper form.
Save time and energy by gathering emails with a CRM. Set it up to automatically propose a sign-up during the online check-in, in upselling offers, as part of the directory or while requesting guest feedback. This cuts back on manual work, gets more eyeballs onto your opt-in and makes the subscription process easier for guests.
Managing your subscribers
Finally, a quick note on email database management and keeping subscribers happy and engaged.
Use powerful, interesting subject lines and body text. Hint at what guests might find inside your email to build curiosity and boost your open rates. Keep it up in the email itself. Present special offers in an intriguing way to drive conversion rates and keep readers wanting more.
Follow the rules. Ensure that you follow the current email marketing and data protection guidelines in your country, e.g. the EU's GDPR. This protects your guest's interest and shields you from potential legal issues.
Don't overdo it. When guests trust you with their email address, they expect you to be respectful of their inbox. Don't bombard them with endless promotions and irrelevant messages. Instead, leverage segmentation to send a few special offers and updates at appropriate intervals. Ask yourself if you'd be happy to receive each email before hitting send. If so, that's your green light.
Accept farewells. Seeing people unsubscribe is part of email marketing. Respect when someone opts out and don't contact them again unless they request it. While it may seem unpleasant, your unsubscribe rate is a valuable metric. Monitor it to spot shifts and see if you need to improve your segmentation or email content.
Ideas for different types of emails to send to your list
Email marketing encompasses several different types of emails. Below you'll find the three main kinds that are relevant to email marketing for hotels plus some ideas to inspire your next email marketing campaigns.
General newsletter: an informative email you send out at fixed intervals, e.g. monthly or every two weeks.
Share news about:
The hotel (e.g. awards, renovations…)
Current or upcoming events and promotions
Other details that add value for your readers
Seasonal or limited-time promotion: a standalone email to promote one specific offer. This could include:

Flash deals
A last-minute sale, e.g. to drive business on shoulder days
Your summer weekend special for local guests
Referral bonus for past guests

Targeted campaign: one or several emails you send to a specific group of guests to promote an offer that's relevant to them.
Here are some ideas:
A special family deal
Preferential conditions or exclusive offers for your regulars
Couples' getaways
Any other offers that are geared towards a certain segment
In all cases, the goal is to build or maintain brand awareness, nurture your client relationships and drive sales. That way you stay at the front of people's minds and they think of you first, when it's time to plan a trip. This is a fantastic way to drive repeat bookings from past guests and benefit from their low acquisition cost.
As you can see, email marketing has many benefits for hotels. It's cost-effective and it offers numerous ways to drive business all while nurturing the relationship with your guests.
And with the right tools, you can take advantage of all this without adding hours of extra work to your day.
Now, what do you think – how much could your property benefit from this?
Hospitality has changed forever. Gone are the days of carefree travelers. The future is for safety-conscious guests who at least for now try to minimize any physical contact and enjoy their vacation or business trip. To provide a good service to this new breed of travelers means you also have to change. The key is digital transformation and it will help you solve two big problems many property managers are experiencing
Your current hotel experience is not what your guests expect
During the pandemic, e-commerce has risen by 19%. This means more and more people are accustomed to online ordering and self-service. This trend has moved to hospitality. Online offers convenience that is hard to rival. Most young people hate the fact that they must go to a front desk to clear an issue or call to order something. Guests just expect more.
The self-service low-touch traveler trend was already here before the pandemic, now it merely accelerated. The modern guest does not like to go to your front desk to ask for help. They want to use their phone, to customize their experience. They want to let you know immediately if something is bad. They want to order services using their smartphones, not browse the directories next to the phone. If your property is not able to provide that, your guest satisfaction will be significantly lower.
Solution
The solution is digitalizing the guest journey to enable all these things. To allow the guest to reach out to you when THEY want, using a device they are most comfortable with, their phone.
We found that 84% of consumers are more inclined to do business with organizations that offer self-service options, but only 61% agree that organizations are providing easy, convenient self-service.

Forbes
It will improve your guest satisfaction. More and more studies show that guest satisfaction is higher when guests are engaged vs passive guests. Tripadvisor's Travellers' choice is a testament to that.
Finding good people is hard
This leads to our second problem. This is the biggest internal challenge most hoteliers face with. There are many articles about hoteliers being unable to find people (article, article) and this could have a massive impact on recovery. There are many reasons behind it. One is definitely low salaries. The hospitality industry is notorious for that. If a front-office worker earns 25% of the salary a manager does, where is the motivation?
The second issue is seasonality. The hotel business has always been seasonal. But at least it was predictable. But now with the pandemic, countries go into lock-down semi-randomly. Try to find people working in this environment. Let alone investing time into training them.
Solution
By digitalizing your guest experience, you reduce the reliance on the workforce significantly while maintaining the same service levels. Those hotels that embrace this, will outperform those, who are stuck in the old way of doing business.
Service industry automation is coming and will change a lot. It will impact the livelihood of some people. But that is the harsh reality. Fewer employees mean reduced cost and by automating some aspects of the customer service, your staff can focus on less menial tasks thus actually earning more tips.
Conclusion
The hospitality industry is changing. First were the OTAs, then came AirBnb and now the pandemic. Change is something you shouldn't be afraid of. It creates opportunity. If your business model was struggling before, use this moment to adapt and do things differently. By embracing technology, you will stay ahead of the hotel across the street. I know it is tempting to go back to your old habits, but you will risk becoming obsolete.
Hoteliers around the world need to strike a fine balance. They've been forced to streamline their operations as much as possible to gain efficiencies, save time and reduce costs – all whilst to maintain high levels of guest satisfaction and increasing RevPAR. This is only possible by balancing offline with the online guest experience. The two-way API interface between Guestline PMS and GuestJoy helps hoteliers to deliver a modern guest experience by streamlining pre-arrival processes such as upselling and guest registration.
Read more about it here
How does it work?
The two-way API interface between Guestline PMS and GuestJoy enables hoteliers to create digital guest experiences using a single product. Once the integration is set up, the data flow between Guestline and GuestJoy is seamless. Updates made in GuestJoy appear in the guest folio.
When a guest completes GuestJoy's check-in form and submits it, the information is updated in both GuesJoy and Guestline via the 2-way integration.
The reservation data received from Guestline is used to create segments, so that offers featured in the upsell email are specific to that guest.
GuestJoy is an official Tripadvisor partner and has full tracking of reviews that are submitted by GuestJoy guests.
About GuestJoy
Leading Guest experience platform. The preferred choice among modern hoteliers who want to digitalize their guest experience but avoid using multiple standalone systems. Designed to simplify the life of you and your guests. Hundreds of properties in 25 countries trust GuestJoy.
About Guestline
Guestline's multi-award-winning property management, distribution and digital marketing software for hospitality businesses are cloud-based. The software enables hospitality business owners and managers in sectors such as hotels, serviced apartments, pubs, and more, to manage bookings and operations both efficiently and profitably.
Innovative technology developments include integration with many leading third-party applications, tokenization for PCI compliance, website design and additional functionality to improve customer service and capture more revenue.
With offices in Europe and Asia, Guestline's systems are used in 25 countries across 5 continents and enable properties of all sizes to achieve maximum occupancy at the most profitable rate.
Online check-in completely transformed the Airline industry. Until now, the hospitality sector has been slow to follow. One reason has been the lack of strong business needs, but also the complexity of the project. But as guests are demanding it, more and more hotels are embracing this technology.
Each hotel is unique and there are many PMS vendors out there. This makes it very challenging for the hotelier to start planning their digital transformation.
In this article, we'll give you an overview of how to go about selecting the best check-in solution for your property. It's by no means a comprehensive guide, but it will at least provide you with some general guidance!
Background
From the perspective of your guests, the hotel check-in process has been the same for a very long time:
All this can take a lot of time, and if your guest had a long journey to make it to your property, this is not what they will want. I don't care if you have the best smiles in town. They just want to get into their room.
In the ideal scenario, guests will just enter their details before actually arriving at the hotel, in order to avoid this tedious experience.
Then, the hotel provides them with all the necessary details like breakfast arrangements, safety rules and also door access.
Prior to COVID-19, many hoteliers were feeling that by going digital, they would lose their personal approach.
But, in our new reality, guests actually prefer it. For guests, it's about convenience, the speed of the process, safety, and freedom to choose when to do it.
For hoteliers, it's about saving on costs, but also increasing customer satisfaction. Handling each guest manually is a labor-intensive process, and during peak times can account for many man-hours.
Going digital
As with any project, you need to define your goals for what mobile check-in needs to do for you. What do you want to achieve?
Collect guest data to speed up the check-in process
Need to collect credit card details for payment
Ability to upgrade the room or other services
Open doors or distribute key codes
By looking at each stage separately, we can start understanding which solution is most suitable for your hotel, as each feature comes with caveats and costs.
Next, we will look at each key component separately to make it easy to understand the project.
PMS integration
For mobile check-in to work, guest data needs to be in the PMS in a timely and correct manner.
This means the solution needs to be able to get data from the PMS, and ideally, also send data back.
Many PMS vendors support connections with 3rd party systems. This is most commonly done via API. The better and more open the API is, the more solutions you'll be able to choose from.
Unfortunately, many PMS vendors (especially on-premise ones) lack suitable interfaces. This means that even if you want to go on implementing mobile check-in, you actually can't. So having a closed PMS can prevent you from modernizing your hotel.
Key questions:
Does my PMS have an open API?
Can check-in providers send data back to my PMS?
Is there a fee for using the API?
Can all vendors integrate?
Good PMS vendors with open API
Check-in form
Hotels have different needs when collecting data from guests. These may include:
Verification that the reservation is correct
For analytical purposes
Government requires it
Marketing purposes
Upselling
You as a hotelier will probably want to convert the existing paper form into a digital one.
This means the check-in form editor needs to be highly customizable so that you can create any field in your check-in form.
Otherwise, you won't be able to fully replace the current processes without making compromises or going against government legislation.
Look for vendors whose customization options aren't going to limit what you can achieve.
Key questions:
Can I customize all the fields?
Will the design match my brand?
Can I include a marketing opt-in?
Can the guests digitally sign the check-in?
Can the guests provide scans of their passports/IDs?
Can they also check in accompanying guests?
Payment
Guest reservations can be paid in advance, but in many cases, they are partially paid or the guest needs to pay fully on-site.
Even if the payment is made fully, you still might want to get the guest's credit card details if they order services or accidentally break something.
This means obtaining guest credit card details is a must in many cases.
But the term "credit card payment" can have different meanings:
Asking for the card details using a form
Verifying that the credit card is valid
Reserving funds in advance
Making the actual payment
Try to decide on what you want to achieve before approaching different vendors, because when you accept a payment, you also pay commission to payment gateways, and in many cases to the check-in provider.
Key questions
Will the mobile check-in be available only to paid customers?
Do my guests need to do payments?
What is the payment gateway commission?
Does the check-in provider take a commission?
Door access
The biggest challenge with all mobile check-in providers is how the guests open the door.
Many hotels all over the world use door systems, which very few systems can integrate with. Or even worse, they use physical keys.
This means digital solutions have a tough time making the process completely contactless.
Ideally, door locks should also be modernized, but there are ways of going digital even without costly upgrades.
Many properties start their access system modernization with a single floor or a room category. This means all guests who use online check-in will always end up there. Then slowly build up from there and modernize the entire property.
Also, many options can be combined so that you have a key card with the PIN code, for instance.
Links
Key cards
The most commonly used solution in hotels. The trouble with these solutions is, that they offer only limited connectivity options with external systems, and they are expensive.
ASSA Vingcard, which is very popular, does provide its own app for door access. When you want to go with this option, then you either need to hand out keys physically in the reception or have a kiosk that dispenses cards.
Bluetooth upgrade
Another solution is to retrofit existing locks with a Bluetooth-enabled module, so you can run the existing key card-based system in parallel.
This means you can provide the convenience of the contactless door opening without the need to do costly upgrades like changing locks or even doors, and still keep your existing key card setup.
Doors can then be opened using an app on the guest's phone, or through a centralized web application that is able to open doors.
Example module, that will be fitted inside the lock.
The beauty of this solution is that visually there will be no changes made to the door.
Useful links:
PIN code
This has been used extensively in the hostel and vacation rental worlds.
The PIN option means guests can enter the room even if their phone is dead, or they lost the key card.
These PIN codes are managed over WiFi and work in the same way as a key cards.
A PIN is assigned to a door with a lifetime. This means previous guests won't be able to enter the room past their departure date.
Also, you can assign a master code for hotel staff.
Quite often these doors have WiFi connectivity, which is very convenient if you have a smaller property with good WiFi access. All doors can be controlled through a centralized management interface.
Physical keys
Many smaller properties still use physical keys and there is no real business benefit to changing them. You could use storage boxes with code access to store keys; not an ideal solution, but a good intermediary step.
If your property is small, you can prepare the keys in an envelope or PIN code safe and give instructions via email.
Key questions
What is the one-time upgrade cost?
What is the monthly cost?
How secure is it?
For Wifi & Bluetooth-enabled devices, what is the battery time?
Can third-party systems connect to your access system?
Solutions
Here we look at different solution types that are out there. Naturally, each vendor has its own nuances. There are many different solutions out there. Each one has its pros and cons.
Web-based solutions
These are solutions that don't require anything to be installed by the user. Just a click from the email, and it all works.
The benefit of web-based solutions is that you can get them up and running very easily, and the upfront cost in terms of time and money is significantly lower.
Many PMS vendors already have some degree of functionality in this area, but you can use third parties who specialize in this.
Pros
Easy to implement
Cost-effective
Very easy to use for guests
No compatibility issues
Cons
Difficult to open doors without an upgrade
Requires guest emails
These solutions can be easily complemented with a kiosk with a web-based solution.
Check-in kiosks
Many hoteliers opt for kiosks because of their physical appeal, and people are accustomed to using them in airports. You put them in the lobby, direct guests to use them, and they generally work well.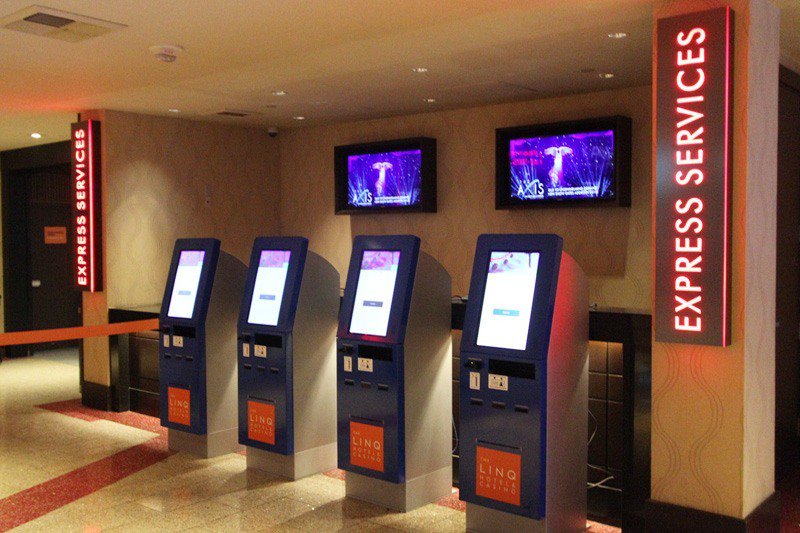 Pros
Good if you need do dispense key cards
Accessible for guests without an email address
You know for a fact that the guest is at your property
Cons
Unless you have many of them, from the guest's perspective, no added value
Quite expensive to implement
Higher maintenance cost
With check-in kiosks, hoteliers get the benefits, but not the guests. They still have to wait in the lobby, and kiosks are yet another contact point guests will want to avoid.
Mobile app-based solutions
The market is full of providers which enable guests to check-in, upsell, or provide feedback on their apps. Apps have the added benefit of working offline and have a very visual experience.
But there is one "gotcha"- guests need to download the app.
And that poses a significant barrier. BUT, that does not mean it is a bad idea. If your hotel chain is big and you have a lot of loyal customers, then it might make sense for you to take this route.
Pros
Very interactive guest experience
Offline capability
Can potentially open doors
Cons
Huge install barrier
Phone compatibility issues
More complicated setup
Conclusion
There are many different types of solutions out there with different price ranges. And sometimes the limiting factor can be completely something else like your PMS lacks the connectivity options or door locks are outdated.
You, as a hotelier, need to decide how far you want to take the experience. Everyone wants a Tesla, but we all have a budget. That is why define your end result and start going step-by-step.
Recommended door lock vendors
Thursday, October 17th was HotelTime's latest event, held in Prague, and the theme of the day was Automation in Hospitality – an event we were obviously keen to be a part of!
The Participants
Other than GuestJoy, the other participants included:
Niall Lenihan, Partnerships Development Manager with our friends Net Affinity
Alexander Edström, CEO of Atomize
Travis Henry, Hospitality Director at Total Processing
Jan Hejny, CEO of HotelTime Solutions
The Venue
The event was held at Hotel Don Giovanni, Prague; a wonderful 4-star, 400+ room hotel standing proudly in the heart of Europe. We had a very healthy attendance of over 80 hoteliers who were keen to learn the various ways that automation would be able to help their properties.
GuestJoy's Presentation

Our presentation was titled How to Supercharge Your Revenue and Reputation by Doing Nothing.
We decided that we wanted to help dispel any of the negative connotations that our audience might have with automation. Hopefully, pointing out how automation is already a major part of our lives, and has been for a long time, went to some lengths to achieve that.
Principles of automation
Importantly, we wanted to share some principles about any automation you are considering for your property. They were:
Automation should never detract from the guest experience. Remember, we run hotels, not Airbnbs, and guests expect a certain experience when they choose us.
Automation should not force you to do extra work. The whole idea of automation is that we are streamlining existing tasks, whether they are big or small. So, in essence, once something is automated, it should be invisible.
Any automation that you put in place should, at the very least, be cost-neutral. However, given the opportunities available from using automation, it's fair to say that automation should give you a demonstrably high ROI.
Finally, automation should never be overkill. This kind of relates to the first point, however, it's more about the idea that automation shouldn't be the answer to something that wasn't a problem to begin with!
The key to automation in hotels

Next, we talked about the key to automation – the smartphone.
Some technology innovations come and go (does anybody remember 3D televisions?), but others are here to stay. And for hoteliers, the smartphone is the focal point of easy ways to automate many of their operations, because everybody has one!
When conducting research for this presentation, we found an excellent study – the Customer Engagement Technology Study 2019 – and in particular, we were fascinated with this particular chart:
So, with guest expectation already poised like this, we know that now is the time to start looking at how automating things in your property will pay off.
Automation is an opportunity
Far from being a buzzword, automation now presents as a serious opportunity to enhance the way your property operates and to provide an even better experience for your guests.
At GuestJoy, we've known this for a long time, and we have been busy building our unique platform that covers all parts of your guests' journey: prior to their arrival, during their stay, and after their departure.
GuestJoy is like having an extra staff member on your team whose sole responsibility is to ensure seamless communication with your guests, enabling you to supercharge your upsell revenue and online reputation – without doing anything.
The bottom line
The end result, really, is that automation frees up you and your staff to allow you to focus on providing your guests with the best possible experience.
And that's why so many people choose hotels in these times – the experience they can have. Nobody knows this better than GuestJoy, and that's why our platform is the best of its kind!
Presenters on the day
Net Affinity
Net Affinity, a long-time friend of ours at GuestJoy, were represented by Niall Lenihan. Net Affinity is a company that is dedicated to driving more direct bookings at your property, via a host of products and consultative services.
Learn more about how Net Affinity can help your property here.
Atomize
Atomize is a company whose aim is to increase revenue and save you time by automatically setting the optimal price at any given moment, for every room type. Their CEO Alexander Edström presented on the day.
See how Atomize can help dramatically increase your revenue here.
Total Processing
Total Processing is a company dedicated to enabling hotels to accept payments online on their own terms. Being a bank-agnostic platform allows Total Processing to focus on the needs of their customers as their priority. Explaining all of this one the day was Travis Henry.
Find out more about Total Processing and their services here.
HotelTime Solutions
Our fantastic hosts of this event and great partners at HotelTime Solutions produce HotelTime, a fully-featured cloud-based PMS system with more than 500 customers in 11 countries worldwide.
HotelTime Property Management System solution currently operates in properties as large as 400 rooms and as well as smaller properties with less than 50 rooms. It also enables chains with multiple properties to efficiently manage multi-property operations. CEO Jan Hejný presented on the day.
Discover just how much HotelTime Solutions can transform your own property here.
Property: Salvator Hotels & Apartments, Prague, Czech Republic • Website
Key contact: Martin Votřel, Sales manager
About the property: Hotel Salvator is situated among Prague's listed historical buildings and is located directly in the historical city center. It was awarded Hotel of the Year *** in 2014. Thanks to its location, Hotel Salvator is a great starting point to set out and discover Prague. The building has retained its original character, including the rustic La Boca restaurant, which offers an attractive alternative to the modern, high-capacity hotels (owned by international corporations) in the center of Prague.
Martin and his team had been communicating with their guests manually, and even back then in 2017, they understood how important it is to welcome the guests before their arrival, showing what they can purchase to make their stay more pleasant. So they were searching for a system that would ease up the work of the receptionist and make it even more productive.
The only thing that we needed was the reports, that we now receive from GuestJoy.
Martin did not engage in the setup process, which was handled by his colleague, but now he is in charge of all the systems they are using in their hotel. He thinks that the GuestJoy system is easily understandable and clear. Whenever Martin has had any questions, he received assistance immediately.
He thinks that the GuestJoy system is easily understandable and clear. Whenever Martin has had any questions, he received assistance immediately.
For Martin, one of the most useful features of GuestJoy is that he is notified by email of any new reviews, which means he doesn't need to check the system on a daily basis.
He is in charge of 3 locations, so it would be really hard to go through GuestJoy and every other partner, like OTAs and websites, that they use every day. So for this matter, the weekly reports are really helpful. He only uses the system if he has to update the Concierge offers, but now with the new segmentation improvements, it will save him even more time and streamline the process. "We constantly change the offers that are being shown in the mail and the "Most popular" offers, as well, but at least once a month, I do visit the app and go through it more thoroughly." – said Martin.
What did GuestJoy achieve for Salvator Hotels & Apartments?
Martin is really glad that GuestJoy eased up the work of the reception, which was the most important thing for them. Martin and his team are glad about the outcome of the pre-stay emails, as guests do order transfers and parking through the mobile concierge a lot. Discounts are being offered through GuestJoy as well, especially during the off-season. This helps them maintain the number of orders placed by guests, to keep their upsell revenue high, not to mention a large number of positive reviews they receive through GuestJoy.
Salvator Hotels & Apartments' message to other hoteliers
We are happy with GuestJoy and are not planning to change it, as we like the fact that we communicate with all guests automatically via email, irrespective of how the reservation came to us. Then they get redirected to our Concierge page, which is well organized, even if you open it on your mobile phone. In my opinion, GuestJoy is perfect for hotels similar to ours, with around 40-50 rooms. I haven't had enough experience with managing big hotels and am not familiar with the processes, this is why I cannot say something more, but I think every hotel should at least try it, in order to understand the benefits.
How to improve your hotel guest experience without breaking a sweat?
Would you like to know the answers to the following questions:
1. Why it's important to sell an experience, not a product or a service?
2. How to package offers to sell more?
3. How to convert some of them into experiences?
4. Different personas at your hotel
If yes, then we have great news for you, because we're organizing our very first webinar! For free!
More than ever, your guests expect technology to complement their stay. GuestJoy provides you with a digital guest platform; one that allows you to increase upsell revenue and get better reviews, all while providing your guest with a fantastic experience before, during, and after their stay.
Property: Hotel Cosmopolitan Bobycentrum, Brno, Czech Republic • Website Key contact: Olesya Oleynyk, Front Office Manager About the property: Hotel Cosmopolitan Bobycentrum is a 4* hotel which has been reconstructed last year. It was built back in 1993. It is located in Královo Pole, which is the northern area of Brno. We started our cooperation not so far ago, 3 months, to be exact, but already now Olesya Oleynyk and her team are confident and happy with the results. Upsell was only possible directly at the reception, as they haven't been using any system before GuestJoy.
It takes only a couple of hours, for my colleagues, to understand how to work with the system.
"The set up went really fast and smooth, as GuestJoy is user-friendly and it was very easy to accomplish, as the customer support was always friendly and did their best to help if we needed it", said Olesya.
"The set up went really fast and smooth, as GuestJoy is user-friendly and it was very easy to accomplish, as the customer support was always friendly and did their best to help if we needed it"
Olesya finds the system and functions to be intuitive. If somebody is afraid of the innovations and the changes that will have to be made, then they shouldn't be worried about this at all, as GuestJoy will only make your life happier and easier.
There is no need to log in and check every day, as GuestJoy happily works on its own. Hotel Bobycentrum uses the reports at their weekly management meetings, where they go through the statistics of sales, reviews and feedback, and take certain measures if needed.
"GuestJoy will only make your life happier and easier."
Hotel Cosmopolitan Bobycentrum's message to other hoteliers.
"If you want to satisfy all guest expectations and want to be ahead of all the customers' needs, then you should definitely try GuestJoy. Only this will help you understand what are the weak parts of your hotel and what needs improvement. Your guests will be satisfied and you will build up a good relationship with returning customers."
"If you want to satisfy all guest expectations and want to be ahead of all the customers' needs, then you should definitely try GuestJoy."
Get in touch with us and let's talk about how GuestJoy could help your hotel.
Property: Hotel Keflavik, Iceland • Website
Key contact: Lilja Karen Steinþórsdóttir • LinkedIn
About the property: Hotel Keflavik is positioned on the doorstep of Reykjanes' Peninsula breath-taking nature and only 15 minutes from the Blue Lagoon.
We interviewed Lilja Karen Steinþórsdóttir, Assistant Manager of Hotel Keflavik and asked about how has GuestJoy improved their guest communication just in the first eight months since they started using GuestJoy.
When you made the decision to start with the GJ platform, how important was the review component to you? Our reviews have always been important to us and to know what we are doing right and what we are doing wrong and hopefully correct the situation as soon as possible if a guest is not satisfied. I think it is probably more important than upselling as this is what our potential guests usually check first before making a reservation.
How has GJ helped with managing those unfortunate situations where a guest didn't enjoy their stay and left a low (1-3) stay rating? GuestJoy has helped a lot. We immediately get the email notice about unsatisfied guests and then we can contact them directly via email to try to correct the situation and learn from our mistakes. This helps us to have direct contact with the guest as soon as possible which is great for both parties.
"GuestJoy has helped a lot. We immediately get the email notice about unsatisfied guests and then we can contact them directly via email to try to correct the situation and learn from our mistakes. This helps us to have direct contact with the guest as soon as possible which is great for both parties."
How much of an impact did GuestJoy have on your current TripAdvisor position? For Hotel Keflavik we have around 1.200 reviews and ranked 4.5 stars and have received a certification of excellence. For Diamond Suites, we have ranked 5.0 stars and have also received a certification of excellence. Our restaurant KEF restaurant has a 4.5 ranking and a certificate of excellence.
Any other comments or suggestions? Hotel Keflavik has been in the top 3 overall in Iceland (all reviews on different sites for 4-star hotels ranked together) for weeks on end and taking the top spot now during the summer months and we could not be more pleased. Our staff has been working very hard to make each guest have the most pleasant stay possible with us as we offer a good and friendly service and they have surpassed all our expectations. We are quite proud of our staff and hotel and the services we have to offer. GJ has been helping us with managing reviews very well and sufficiently and we love the concierge site as it is easy to use and professional for our guests. I highly recommend GJ for all hotels and guesthouses. The staff of GJ has been more than helpful and very pleasant to work with and very quick to respond. We are quite happy with our cooperation with GJ.
"I highly recommend GJ for all hotels and guesthouses. The staff of GJ has been more than helpful and very pleasant to work with and very quick to respond. We are quite happy with our cooperation with GJ."
Talk to us to learn about the difference it could make at your hotel.
Property: Argo Hotel Belgrade, Serbia • Website
Key contact: Filip Maksutović • LinkedIn
About the property: One of the best-located hotels in the city, Argo Hotel Belgrade is a winning choice for business and leisure travellers alike. With a dedicated, welcoming team behind him, we asked hotel manager Filip Maksutović what sort of impact GuestJoy has had since going live in February 2019.
Argo Hotel Belgrade had gone a long time without having a system to streamline guest communication. 4 years ago, they used another very popular application. "But only for a short period of time. After around 3 months, we decided to stop using it", said Filip. Argo Hotel then started using GuestJoy in February of 2019. Let's look at what it's done for them.
More reviews, better guest communication
"GuestJoy has a big impact on our hotel when it comes to reviews", said Filip. "We now receive more TripAdvisor reviews than before, and 95% of those reviews are ratings of five out of five".
95% of all TripAdvisor reviews collected via GuestJoy for Argo Hotel are rated 5 out of 5
Easy to set up and use
That wasn't the only positive experience. According to Filip, just setting up and using the app was also a positive: "Setting up the app was really easy. GuestJoy is honestly very user-friendly, and that is important to us".
"GuestJoy is honestly very user-friendly, and that is important to us"
Argo Hotel's message to other hoteliers
Our first hotel in the Balkans, Argo Hotel and GuestJoy enjoy a very strong partnership. "For sure, we would recommend GuestJoy; especially for hotels who are not part of hotel chains", Filip said, adding "Also, we have only needed to contact you for support once, and you were very helpful".
More than ever, your guests expect technology to complement their stay. GuestJoy provides you with a digital guest platform; one that allows you to increase upsell revenue and get better reviews, all while providing your guest with a fantastic experience before, during, and after their stay.
Talk to us to learn about the difference it could make at your hotel.
Property: Hotel Kriunes, Reykjavik, Iceland • Website
Key contact: Sara Björnsdóttir
About the property: Hotel Kríunes is a small slice of paradise located on the outskirts of Reykjavík city. This family-owned hotel was established in 1998 by Björn Ingi Stefánsson and his family.
With special personalized service and a relaxed atmosphere, Hotel Kríunes makes you feel at home.
Sara and her team kicked off their journey with GuestJoy not long before Christmas 2018. Prior to using GuestJoy, Hotel Kriunes didn't use another system; all guest communication was done manually via email. Even though the system had an immediate impact on upsell revenue and more quality reviews, they feel the best is still to come.
GuestJoy is a "Set and forget" system
Hotel Kriunes was very pleased with how easily GuestJoy became part of their average day, but without requiring constant attention. "GuestJoy is so integrated in our day to day work, that we don't even notice it. Everything runs well. We only hear about it when people order something!", said Sara. Further to that, Hotel Kriunes was satisfied with customising the system the way they wanted it. "It was pretty easy to set up GuestJoy.", Sara commented, "Also, we had good help in being shown how everything works".
"GuestJoy is so integrated in our day to day work, that we don't even notice it."

What did GuestJoy achieve for Hotel Kriunes?
Guests of Hotel Kriunes instantly loved the offers presented to them, with the hotel is averaging around 155,000kr in upsell revenue monthly. Their best month to date saw a tally of just under 220,000kr, however Sara and her team believe they will do even better as they mature their upselling.
On the reputation side of things, the number of TripAdvisor reviews Hotel Kriunes collects instantly increased. "People leave more reviews than before!" Sara happily added. She's not kidding! GuestJoy now accounts for 1 in every 2 reviews Hotel Kriunes receives on TripAdvisor.
50% of all new reviews for Hotel Kriunes on TripAdvisor are submitted via GuestJoy
Asked whether she would recommend the system to others, Sara had a simple response: "GuestJoy will make your daily work easier. I would recommend it for all hotels." Thanks, Sara!
"GuestJoy will make your daily work easier. I would recommend it for all hotels."
We look forward to continuing working together to make sure Hotel Kriunes is able to get as much as possible from GuestJoy. Your guests are quickly moving towards a digital environment. At GuestJoy, we provide your guests with a seamless digital hotel experience. One that streamlines communication, maximises upsell opportunities, and helps your hotel strengthen its reputation by increasing the number of quality reviews it receives. Talk to us today to find out how.
Property: Hotel Haaga Central Park, Helsinki, Finland • Website
Key contact: Osmo Suominen • LinkedIn
About the property: Hotel Haaga Central Park is a wellness hotel offering diverse services in the Haaga district by the Central Park of Helsinki. The hotel has 122 comfortable guest rooms, premises for various sizes of events and a wide range of meeting rooms for up to 240 people.
We asked Osmo Suominen, Operations Manager at the hotel about his thoughts on working with GuestJoy, nine months after the hotel went live with it in July 2018.

So Simple!
What came up continually in his comments was the simplicity of GuestJoy; both in setting it up initially, and also using it from day to day. He also described the setup process as convenient, easy and smooth.
What was the biggest success?
The biggest win for Hotel Haaga since implementing GuestJoy has definitely been with TripAdvisor.
Whereas once, Haaga's TripAdvisor ranking was 49, it has steadily risen to now be hovering around 13 to 12, thanks to GuestJoy. Add to that, the number of completed reviews on TripAdvisor has increased dramatically. Prior to switching to GuestJoy, their total number of reviews was barely growing:
Importantly, Osmo felt that in his interactions with GuestJoy Support, he always received a "good response", and once again commented about how simple it was to have questions answered or issues resolved.
Finally, when asked which hotels he would recommend GuestJoy to, Osmo's tip was that independent hoteliers would benefit the most from the app.
Thanks to Osmo and his team at Hotel Haaga Central Park for our continuing partnership!
If you'd like to find out how GuestJoy can help your hospitality business to stand out more, then we're just one phone call/email away. Get in touch with us today http://bit.ly/GetGuestJoy
We believe in the power of face-to-face networking. Why? Because in our opinion to grow as a business, you need to have that human connection since it helps to create and build meaningful relationships through knowledge and passion sharing. That's also the main reason why we're regularly traveling and visiting industry-related events across the globe.
In 2018, GuestJoy attended 42 events in total, and we're planning to continue like that in 2019.
Just last week, our co-founder Alar participated in the Enterprise Estonia's Japan Contact trip to Tokyo, which was organized by Civitta Estonia in co-operation with Enterprise Estonia for Estonian businesses, who're interested in exporting their products and services to Japan, where Alar shared the founding story of GuestJoy.
Two weeks ago, Alar participated in the New Baltic Hospitality Forum, the biggest hospitality-related conference that will be shaping the future of the Baltic regional hospitality market, where he talked about his personal travel experiences and how being happy was the most important part of the experience for him.
Alar speaking at New Baltic Hospitality Forum
Where could you find us next, so we could meet with you and connect!?
The Hotel Digital Workshop @ Helsinki, Finland on 16th of April, @ Cork, Ireland on 21st of May and @ Brno, the Czech Republic on 8th of October
The Hotel Digital Workshop is a very convenient way for busy hoteliers to gather information and tips from key industry players during a breakfast or an after-work session around the theme: "Hotel online distribution: what really sells rooms today?" Along with D-EDGE, expert partners will share their tips and help you decipher which trends are really impacting our industry and what can effectively work for your hotel.
Future Tourism Conference @ Budva, Montenegro on 6-7th of May
Our Balkan Market Manager, Milos Arambasic will be visiting the Future Tourism Conference in Budva, Montenegro, where he'll also give a keynote speech. The main topic of the "Future Tourism" conference will be "Digital transformation in tourism", a trend gaining more importance each day.
We hope to see you at one of those events!
Team GuestJoy
www.guestjoy.com

The road to joy
GuestJoy was born out of the necessity of making guests' lives easier and give hotels a more personal touch. From a simple product to upsell services, it has evolved to become a fully fledged tool to cover all aspects of guest communication. We had built the best solution in the market, now we needed a strong image to support it. Something that truly represents the carefree journey that we have created for the guests.
New brand – a smiling G
Our new brand symbolises everything that we are to our customer: friendly, helpful and professional. GuestJoy's smile-shaped G stands for a journey of joy and delight. The light green colour represents the seamless customer experience. And the playful nature of travelling is something you see on our hand-drawings.
Why GuestJoy?
"Thank you so much for my welcoming email, that's really nice and makes me more confident I have chosen the right hotel for our stay" – guest feedback received by one of our customers that uses GuestJoy.
We live in a noisy world. Travelers are flooded with information about unique destinations, gorgeous hotels, and tasty food. They want to experience the world, but they also want to feel like kings and queens for a day. Listening to travelers and treating them as individuals with different needs became our mission at Guestjoy. We believe that this is a way to build strong and long-lasting relationships and make the hotel experience truly shine again.
It's the joy of getting connected that we stand for.
Let's bring the hotel sector into the 21st century!
GuestJoy – Apps versus web-apps. The pros and cons.
HotelTime – Why open platforms (API) do it better. Should PMS be open to other vendors?
Booking.com – Booking Story (evaluation), Our mission (Empower people), Our approach to innovation, Traditional Journey (Digital journey), Booking.com Experience, Booking Assistance and In-Stay services, Public transport.
Date: 28.02.2019
Time: 14:00 – 17:00
Location: Maison Bistro & Hotel at 1014 Budapest, Országház u. 17.
Format: casual with snacks and drinks
Register here
Speakers
Roland Bayer Account Manager Partner Services of Booking.com
Amir Fahmy Area Manager of Hungary of Booking.com
Filip Kühnel Director of Sales of HotelTime
Alar Ülem CEO & Co-Founder of GuestJoy
Jevgenia Petrosjan Market Manager Europe of GuestJoy
Here are our 10 tips for effortless marketing — how to increase revenue in hotels and receive more bookings.
How to increase our revenue? This is the question we get over the meeting table from time to time by hoteliers. While it is an easy question for us to answer, it is not an easy task for managers; it requires a lot of organization, promotion, and effort. If you are serious about increasing your revenue get your marketing and sales team aboard and put some time aside to execute these steps:
1. Focus on customer satisfaction
An unhappy guest will hurt your reputation – make sure you answer reviews or have someone do that for you. Keep a high standard of service, respond diplomatically, calmly and offer a reimbursement if needed. Take it to the next level: don't just answer the reviews but act on them! If a large number of your guests have similar requests or feedback, implement those changes in your hotel's daily life.
2. Offer a better booking experience than your competitors
Nowadays almost everyone books via the internet and a growing number of people book from their phones. This means both your site and your own booking engine should be mobile-friendly. Read about device and booking trends here. Hopefully, you are already doing this, but offer a better price on your own site (direct booking.) than on the OTAs. You can even add online check-in or a digital guest experience to it.
3. Keep your staff happy!
If your staff is satisfied with their working conditions, pay and treatment then they will most definitely have more patience towards bickering guests not to mention it will be easier for them to be generally friendly. This is key to a top-class service, guests will definitely notice if your employees go above and beyond their expected duties to make their stay perfect. And abracadabra; your ratings will skyrocket!
4. Make the guests feel at home
A warm welcome message before their arrival will do miracles. You can also inform them pre-stay about your services, parking and things to experience in the area. This will help you create a guest-hotel bond. If the guest knows which taxi service to order – so they are not scammed at the airport – or can check in earlier than usual (e.g. when their flight arrives at 4 a.m. in the morning) they will truly feel at home. You can create offers out of these, and increase your revenue easily with an upselling platform, such as GuestJoy.
5. Ask the guests if they need an upgrade
But do not say that it is an upgrade explicitly. Try to sell the experience or the memory they will have, such as: get a guaranteed view! – selling a bigger room with a better sight of the city. Especially if your suites are empty most of the time, just offer it to guests who have already paid for their general room and get increased revenue. Take it to the next level: An upgrade does not only need to be about the larger room, but it can also include a bottle of wine, room service or late checkout, whatever you think suits your guests. Of course all for a small extra fee.
6. Sell the other hotel products
If you have a spa or a restaurant make sure guests use it! If you are in a popular tourist destination there must be other restaurants that stand out and your guests might go eat elsewhere. Make sure you market your extra services properly, make them appealing to your guests, such as making the traditional, offering them seasonally and following up on the latest trends on what sells. There are so many ways you could do that, we have articles about seasonal upsell here and one about boutique hotel upsell here. You can also upsell the simplest things, such as a fluffy bathrobe, room service or a Netflix & snacks package.
7. Sell tickets
Are there concerts, events and special occasions in town that guests come for? Make sure you are prepared for that. You can sell tickets to these, team up with Hop on Hop off, and offer these experiences with additional taxi, dinner or gift sets.  As a result, the guest will enjoy the city more while your hotel earns more revenue—a win-win for both.
8. Social media marketing
Social media trends help hotels connect more with their guests. It is very easy now to promote a hotel's services and hotel activities on Facebook, Instagram, and Twitter. Learn a bit about who uses which platform, for e.g. FB is mostly used by middle-aged women, and Instagram is the playground for the upper coming GenZ. Just because they are not grown up yet does not mean they do not have money, and GenZ will not purchase anything that has a bad review. Try to post new information often, the best times are morning, lunch break and evening, and remember that it's necessary to engage with guests' comments. You can read more about social media strategies that a hotel can use via HotelSpeak.
9. Personalise your offers
Each guest is unique. Use segments to promote offers. This increases the relevancy significantly. Business travelers behave completely differently than leisure travelers. This might apply the same to different nationalities. You understand your segments the most. Create offers with them in mind.
10. Automate your upselling
To understand customer needs while also increasing the revenue of your hotel, you need an upsell and guest communication software. If you do not have the time to search through guest behavior, assess what you've learned with your team and implement it then simply get an upsell software where the system analyzes data for you and sends the welcome e-mails and offers automatically. All you need to do is sit back, relax and watch your revenue skyrocket.  
Understanding guest satisfaction is the priority The guest review will help you better understand your guest's needs. It is obvious that every guest has their own expectation before they check into the hotel. The guests expect you to understand their needs and prepare for their arrival. In reality, you might be extremely busy with your daily schedule and time is the biggest challenge. Great hotels provide great service to each guest and it requires a lot of staff to go through all of the important details. The early check-in and late check-out are the most common issues caused by poor communication between the hotel and the guest. As a result, the guest gets angry and writes a negative review on TripAdvisor. Remember that the guest has limited patience and if they are dissatisfied you must respond quickly.
Maintain a good reputation and avoid creating a bad one. Double-check guest special requests in advance. The smallest mistake might lead you to a much bigger problem. In the worst-case scenario, it can ruin your hotel's reputation. If the guest is not happy with your hotel, they might damage your brand and write a bad review on the internet i.e. TripAdvisor, booking.com etc.; and if it happens you need to respond to the comment within 24 hours.
How to deal with an unhappy guest? Let us explain one common scenario. The guest called the hotel reception three days in advance and requested early check-in at 10:00 but when the guest arrived there was no room available. The guest gets upset because the receptionist that they were talking to on the phone forgot to note down the special request in the system. Here I would like to share with you some tips on how to deal with angry hotel guests and turn them into loyal ones.
Step 1: Apologize to the guest
What's needed the most here is a sincere apology. Guests want to be listened to and they want to be able to find a person to respond to their needs fast. First thing is to give a sincere apology and express your sympathy. You must take this matter seriously and make sure that the guest feels that you are very sorry and trying your best to resolve this incident.
Step 2: Became an ally with your guest and offer the best solution to satisfy the guest fast
Identify the guest's needs and bring the best outcome. If there is no room in the same class free at the time and the guest needs to sleep badly, consider upgrading the room for the guest.
Step 3: Resolve the issue fast and then follow up on the feedback
After you have decided to send the guest to the upgraded room make sure you follow up for feedback. Check if the guest is now satisfied. A key to fixing this problem is to resolve the customer's sense of injustice by providing something extra such as an upgrade or a 50% discount. In some cases, you may offer also a partial refund. Leave a guest refund policy to the fornt offce so they could solve the customer complaint fast.
Step 4: Document the issue and analyze the data
Learning from the mistake is the best way to improve – so before the memory fades away you must document the data. Analyze the issue and share the knowledge with your team. This will benefit you and the team because if something similar happens again they will know how to deal with it quickly.
Step 5: Give frequent training to your staff and use new technology to help reduce human error
After you have collected and analyzed the data, you might notice that if there are many phone calls between 14:00 to 17:00 the front desk usually makes a mistake because the receptionist has to do multiple tasks. Checking in the new guests, scanning the guest's documents, and managing guest's special requests takes a lot of time. You might need to hire more staff during that hour but hiring more people may break your budget. I suggest you find a smarter solution that will help you to automate most of the work. Here are the solutions that are easy to use and no technical skills are required.
Online or express check-in You can find the express check-in feature at Guestjoy. This feature will allow the guest to pre-fill all the important data such as names, passport no. and nationality etc. It will speed up the check-in process and lift up guest satisfaction to new heights.
Provide 24/7 Mobile concierge This feature will guarantee that the reception won't miss any details. It allows guests to submit their special requests in advance then the system will automatically send the request to the correct department. Now hotel can pre-arrange all special requests in advance, hotel transfer, romantic dinner, and babysitting without chaos.
Collect and review feedback online 12 pm is when most guests check out and this is the time when they are most likely to express any issues they have. As for the hotelier, it is never easy to listen to the guest's complaints. Try to use the online feedback collecting tool. An online survey will be sent directly to the guest's mailbox and once the guest has completed the survey they can easily click submit. This is so simple and you can check all of the answers in real-time. It helps to understand customer feedback better and react to negative reviews faster. Think if you have this kind of solution in place how much time the hotel will save.
Summary Today, the hotel business is crucial. It is a highly competitive and very sensitive business. Your daily mission will not only make your business profitable but you must think about the future. Personalizing the guest experience, investing in good hotel software and trying to improve the quality of service all the time will surely make the guests happy and come back to your hotel.
When it comes to upselling – knowing your customer and timing is everything. Let's look into the key factors to generate more revenue for your hotel.
By the definition: upselling gives the hotel an opportunity to suggest additional services that will enhance the guest's stay. It is key to increasing hotel profitability and guest satisfaction. According to a national consumer survey commissioned by Fusion and conducted by Ipsos Public Affairs research, they found that 61% of consumers would be open to spending more if an additional service compliments or enhances their main purchase. If you are working in a small hotel and you think there is nothing to offer to the guest, please think again. The small hotel has a good chance to offer many services, for example, a bottle of house wine, pre-ordered transfer, and many others. Check out this article if you need some inspiration. If you wish to make much more money you often need to bring in a third-party business This way you can offer guests to book the city tour, adventure trips, day spa, boat ticket; services that are not available at your hotel directly. Your guests will feel happier because they can arrange all of their entertainment on one platform and you can generate higher revenue by curbing a small percentage off of each booking. For more inspiration visit Viator.com or check out what TripAdvisor says about your city.
In our platform, we can monitor hundreds of guests' behavior. Our key points for successful upsell are the following:
Determine who are you upselling to – identify the travel personas
Offer them something in advance – 3 to 4 days.
Encourage them to celebrate special occasions.
Offer something local, for e.g. local wine, local cake, traditional food
Sell rooms with special features – balcony, bathtub (for kids) and guaranteed view.
A transfer option is a must! Many people simply can't do with public transport.
Sell experiences and memories, birthdays offers, romantic upgrade.
Make sure you know your guests! Try to offer something for all of them, not just those who stay at the executive suite. Remember, in the end, good guest reviews are the best marketing tool you have. And if you feel like you are limited in any way, partner up with local companies, hotels, and restaurants to enhance your guests' stay.
About GuestJoy,
We offer a digital guest experience software that generates significant additional revenue to hotels and helps them get a better ranking on Trip Advisor all around the world. Book a free hotel up-selling and review solution online presentation today!