Last week we celebrated the amazing achievements of two of our customers – Hotel Clark Budapest, and Sligo Park Hotel – who were placed in the Top 25 Hotels in Europe and Top 25 Hotels in Ireland, respectively.
This week we continue admiring the accolades earned by 3 more of our customers in Tripadvisor's Travellers' Choice Best of the Best awards for 2022!
Rated 21 in the Top 25 Romantic Hotels💕 in Europe
Maison Bistro & Hotel
"Charming ambiance with a bit of history; 17 unique designer rooms; Cellar a'la Maison; personalized services"
Budapest, Hungary | Website
Rated #9 of 405 hotels in Budapest
Ranking 5.0 🟢🟢🟢🟢🟢 based on 535 verified reviews
Set in a building dating back to 1464, and with a two-storey cellar beneath it, it's little wonder that Maison Bistro & Hotel has been named in the Top 25 Romantic Hotels in Europe!
We asked Viczkó Attila, the Hotel Operations Manager for Maison for his thoughts about being bestowed one of the Best of the Best.
"As we all know the pandemic had devastating effects on our industry; we also suffered a lot, but we managed to reopen in July 2021. This award is the perfect recognition of the hard work of our team. We literally emerged from our ashes, but we kept our heads high and delivered a truly professional performance", he stated.
"I believe Tripadvisor has a huge power on the customers' decision-making process, and being in the top 25 of their European listings is like a dream come true for us. I hope that more and more people looking for an unforgettable, romantic hotel experience will find us in the near future."
When asked how the award might continue to bolster the hotel's reputation, Attila said "Being amongst the Best of the Best in Europe is a chance we cannot miss when it comes to our communication. The listing is for a whole year, so we plan to make it visible on our booking engine not to mention our social channels. This award will be communicated periodically, we will mention it wherever we can."
We were curious to know what Attila thought set Maison apart from other properties that resulted in them being listed as a Best of the Best property. He immediately spoke highly of his staff: "I believe that we have a team of true professionals who seek to deliver a perfect hotel experience. The overall attitude and our common goal is that our guests shall be happy and taken good care of throughout the entire stay.
"There is no secret in this, it is a question of passion and devotion I think."
Attila concluded with some comments about his partnership with GuestJoy:
"I also would like to thank Guestjoy for playing a vital role in our guest experience. We have been using it for years, and Guestjoy has proven that it is great tool of Guest communication.
"The back-end is very easy to configure, provides a loads of data for decision-making, and guests are also happy with the letters and announcements they receive, they are happy to respond and engage. Our pre and post stay communication via Guestjoy opening and closing the guest journey are the icing on the cake.
"I would also like to emphasize the world-class support of Annika and Andrew; thank you guys
".
Well we certainly appreciate the kind words – but the real test is to see what guests thought. Here are some of the most recent comments on Tripadvisor:
"The staff was very friendly, professional and helpful on all levels. The interior design was absolutely stunning everywhere in the building. Our room had a private little terrace which was an absolute unexpected surprise and a great hit! The level of cleanliness in the room and the building was flawless.
We are very grateful to the staff for making our stay so very comfortable and enjoyable"
"Their aim is very simple: All they want to do is make you happy and smiling during the stay.
And boy, they do succeed; from the first step in hotel till check out – everything was fantastic.
First, the location in heart of Buda district – cosy little gem – not an ordinary hotel in building full of history.
Breakfast was superb, and definitely you shouldn't stop here – try their bistro menu – a curated choice of dishes to die for! Definitely a place to return. A must choice to consider for everyone who wants to spend some quality time in Budapest."
"We couldn't praise the Maison Hotel more highly. A great choice for the Castle Hill/Buda area. Sound and soft night's sleep in the peaceful courtyard room and every amenity we could wish for. Breakfast was fresh and tasty with a good variety of nice hot dishes to choose from (special shout out to the Hungarian scrambled eggs) along with the buffet. We ate dinner here too, which was delicious and a great wine menu. What made Maison stand out for us are the lovely members of staff who were gracious, friendly, and made the stay a 'home away from home'. Thank you."
Clearly, Attila was right when he praised his staff; it seems nothing is too much trouble and guests love the care and attention the receive. Congratulations!
---
Heading from one continent to another, but maintaining the romantic theme, we find ourselves on the west coast of Canada…
Rated 3 in the Top 25 Romantic Hotels💕 in Canada
Abigail's Hotel
"Life is too short to be conventional; discover a splendour and charm that has been lost to the ages and uniquely exists at Abigail's."
Victoria BC, Canada | Website
Rated #1 of 44 hotels in Victoria
Ranking 5.0 🟢🟢🟢🟢🟢 based on 1,487 verified reviews
Located in romantic downtown Victoria, British Columbia, Abigail's is a boutique bed-and-breakfast hotel that blends historic accommodation with a distinctive and charming guest experience.
It is an adult-only, intimate 22-room property that is housed in a 1930s heritage Tudor mansion. Its special atmosphere blends the romance and charm of the past with the comfort and convenience of modern accommodation. Known internationally for its cozy ambiance, dynamic three-course breakfasts and personalized, professional and courteous service, interwoven with elegantly appointed guest rooms.
Here, we have a property that is no stranger to being featured as one of the top properties in its market for many years, and this isn't their first Best of the Best 😲
We spoke with Allison Fairhurst, General Manager of Abigail's, about what this year's award meant for them.
"It is an honour to be recognized by TripAdvisor again this year", started Allison.
"We have been included amongst the top 10 hotels in Canada for Romance and Small Hotels for the past 10 years and it means so much to us. TripAdvisor is a valuable hotel partner and is an important contributor to our success, we are so thankful to our guests who take the time to provide such lovely feedback. Many guests comment that they booked us based on the positive reviews."
That is a powerful message on the value of good reviews, indeed!
Allison continued: "Our staff look forward this award every year, they have such a vested interest in the hotel, it's like a second home for many and we all treat it as our own. I think the quality of service is what sets us apart, the small size of the hotel allows us to go above and beyond to exceed the expectations of our guests.
"Our core values are exceptional service, respect and integrity, teamwork and passion and continuous improvement, these are what drive the team and are the backbone of the hotel. We are a unique property in Victoria in that we are a cross between a small luxury hotel and B&B, so we are able offer more personal service to our guests, they are like family and many have been staying with us for years.
Absolutely wonderful to read. Without a doubt, when you have great staff, they enable great experiences.
When we asked how Abigail's will use the award in a promotional sense, Allison replied "We have already posted the award on our website, it will go out in our next newsletter and we will also display a copy in our lobby once we receive it."
Finally we asked Allison what, if any impact GuestJoy has had in their operations and impact in being awarded Best of the Best.
Said Allison: "Guestjoy has played a huge part in securing the award, the number of reviews we are receiving has dramatically increased and we are once again ranked the #1 hotel in Victoria as a result.
"Guestjoy is so easy to use and has greatly improved guest relations and communication, we have found the announcement feature to be especially useful in advising guests of construction notices while we are expanding the hotel.
"The upsell feature has greatly increased add-on revenue and promote our complimentary services.
"Overall, switching to Guestjoy has been one of the best decisions in improving customer relations."
Such pleasing words from such a well-respected hotel are indeed great to hear; we're glad that we could have a positive impact!
But the real positive words come from the guests – let's have a look at some of them now:
"Abigail's hotel was just a lovely stay to celebrate our 6th wedding anniversary. Super cute rooms and the breakfast was better than I was expecting. Would recommend for anyone wanting a unique, romantic, or quaint visit to Victoria"
"We loved Abigail's. It looks great and is clean and well-maintained. The room was spacious and pretty — and it had a fireplace! They serve an amazing breakfast, and when you sit down at the table you can see the menu and a weather forecast — so helpful.
I cannot say enough about the friendliness, helpfulness and pleasantness of the staff from the second we got there to the moment we left. They did everything they could to make us feel special and enjoy our stay."
"Judy and the entire staff from the front desk, to the kitchen staff and the housekeepers were very courteous, kind and just wonderful. Chef Gerald's breakfast were some of the best we ever had. My wife and I were here for our honeymoon and we will definitely be back. this will be our home away from home, we felt like family and they treated us like royalty."
Wow – absolutely glowing endorsements from many which really paint the picture as to why Abigail's is so highly coveted! An incredible achievement!
---
Finally, we're back in Europe to discover bigger isn't always better when it comes to hotels!
Rated 4 in the Top 25 Top Small Stays – The Netherlands
Luxury Suites Amsterdam
"One of the finest Five-star boutique hotels in Amsterdam, where guests enjoy a luxurious and tailor-made stay."
Amsterdam, The Netherlands | Website
Rated #10 of 419 hotels in Amsterdam
Ranking 5.0 🟢🟢🟢🟢🟢 based on 747 verified reviews
Luxury Suites Amsterdam, an exclusive luxury hotel based in an excellent location, is an earthly paradise with a breath-taking lavish interior and a delightful canal view.
Featuring 25 uniquely-styled suites, ranging in size from 50 and 90 square metres; all of which provide the perfect amenities to guarantee a luxurious stay.
We asked Wladimir Schrijver, General Manager of Luxury Suites what it meant to be listed as Best of the Best:
"First, I am extremely proud of my team! Being rated as the "Best of the best" is an honour and a challenge, but we are extremely grateful to our guests who made this happen.
"We are a small team and most of the team members are friends with each other.
"As a General Manager, I know all my staff by name and most private backgrounds. We have a very open working structure with short lines. This makes it a special place to work."
Wladimir also talked about the value of supporting his team: "I believe in training and supporting my staff where and whenever I can. This way everyone is more flexible in connecting with our guests so guests experience the best stay in Amsterdam."
When we asked how it felt, Wladimir replied "The Award really means a lot to us. In Dutch we would say: dit is de kers op de taart (it is the cherry on the pie). We work hard so some acknowledgment of that hard work is always nice to receive.
"Guests look and read the reviews. I also do the same before I travel somewhere. You always get a good impression of the property you will be staying.
"Of course, we will use this Award to promote ourselves on our own website, Facebook and Instagram.
About the partnership with GuestJoy, Wladimir stated "GuestJoy can make sure that guests enjoy a fast and speedy check-in. Also packages can be pre-booked to make their stay even more unforgettable. The whole package makes part of the great feeling our guests enjoy before arrival. We call it "pre-holiday-fun"."
"Pre-holiday fun" – We love it! But so to do the guests love Luxury Suites. Take a look at some comments;
"I have traveled the world and found this to be the best hotel and staff I have ever experienced. Wonderful stay. Beautiful neighborhood. Excellent service and overlooking the canal. I would stay here anytime I am in Amsterdam. Thanks to the staff."
"I'm thrilled to write this absolutely glowing review. I've travelled all over the world including Amsterdam a half dozen times. Luxury Suites is one of my favourite hotels anywhere. Everything about it is perfect. The location is ideal: on a quiet "island" close to the action yet calm. The staff could not be friendlier and more attentive. I almost feel they are like family. Peter the concierge is both super friendly and very professional. My room is spectacular: very large with double French doors opening to the sunshine. The cleaning staff does such an uutstanding job. Etc etc. You get the point. Just book this place and you will be happy."
"We loved our short visit to Amsterdam, in part due to our wonderful stay at Luxury Suites. The breakfast was delicious and the staff went above and beyond with their helpfulness. Extra compliments to Olga who was so kind and helpful in selecting great restaurants for us to try. And, we were surprised coming back one night when birthday balloons and chocolates had been placed in our room, as we were celebrating a birthday during our stay. Excellent hotel"
This is indeed what it looks like when hotels go above and beyond. Huge congratulations to Luxury Suites Amsterdam for such stunning results!
---
Are Tripadvisor reviews like these important to your property?
Reading the reviews of other guests is still one of the biggest influences on a guest's decision to book their stay at a property.
Good quality reviews are critical to your property's reputation and performance!
Did you know?
All the Tripadvisor reviews / review excerpts published in this article were collected via GuestJoy!
With GuestJoy's Feedback module, you can effortlessly boost the number of quality Tripadvisor reviews listed for your property. Watch your ranking and rating skyrocket, and you too can be a potential winner of a Traveller's Choice award – maybe even Best of the Best!
Our Feedback module is just one part of the GuestJoy CRM for hotels.
If you want to know how we can transform your property, get in touch with us today 😉
Last week, we talked about the amazing success story this year that was 2 in every 3 GuestJoy customers being awarded Travellers' Choice from Tripadvisor.
This, on its own, is a remarkable feat! However, there was even more incredible news – 5 of our customers were also awarded Best of the Best.
This is truly next-level – Travellers' Choice Best of the Best award winners are among the top 1% of listings on Tripadvisor.
So we decided to feature and celebrate these properties, beginning with arguably the 2 highest accolades… Let's begin!
Starting with an amazing outcome for one of our Hungarian customers:
Rated 24 in the Top 25 Hotels in Europe
Hotel Clark Budapest
"Where tradition and modern times unite in an exclusive, personalised, and stylish manner."
Budapest, Hungary | Website
Rated #1 of 405 hotels in Budapest
Ranking 5.0 🟢🟢🟢🟢🟢 based on 1,118 verified reviews
Hotel Clark is perfectly situated in downtown Budapest, looking onto the Chain Bridge; one of the most emblematic historic sights of the city. The hotel is in close proximity to a number of World Heritage Sites sites, including the Buda Castle funicular, located just across the street.
Opening in one of the most enviable locations in Budapest in 2018, Hotel Clark has relied on GuestJoy from the following year to ensure their guests had an experience befitting the hotel's incredible design.
In addition to a modern guest experience, GuestJoy helped Hotel Clark to cement the number one rating for all hotels in Budapest – an incredible achievement given they opened in 2018 in what is one of the most competitive markets in Europe.
"Guest satisfaction, as well as online reputation behind it, is crucial for us; and GuestJoy is playing an inevitable part in the process" said Ádám Szakáczki, Head of Revenue and Reservations.
What makes this accolade even more impressive, is that it's the second year in a row that Hotel Clark has achieved Best of the Best!
Being listed in the top 25 Hotels in Europe is an amazing achievement – receiving the honour 2 years running is even more prestigious, when you consider that 16 of this year's top 25 were not listed last year!
Here is a hotel where you can have the utmost confidence that you have not only made the right choice, but you have truly made the best choice.
Concluded Ádám: "We are looking forward to another year full of successes achieved together with GuestJoy!".
But what did their guests have to say? Here are just a few of their recent reviews:
"Little hotel with a BIG heart. The friendliness and professionalim of the staff just made our stay perfect, right in the middle of a beautiful city of Budapest. We just want to say a BIG thank you to all the crew (from the houskeepers to the top management). Hope to visit CLARK one day again."
"Beautiful hotel & the staff were excellent, rooms lovely & clean & the location is fantastic. Great views out over the Danube and easy access to all parts of the city. definitely a must for your bucket list"
"This hotel was amazing. The staff were unbelievable. It was the best service we have ever had in a Hotel and we travel constantly. The concierge was first class!
The restaurant downstairs and the rooftop bar served beautiful well thought out cocktails and delicious food. And don't get me started on the lolly jars! 120% recommend!"
"Beautiful hotel, great views, impeccable service and comfy beds.
First time staying at hotel Clark for my boyfriends birthday! I would like to thank the whole front office team for their help with setting up the surprise in the room and for the extra gestures . Special mention to Adam Szakaczki, Aniko, Boroka and Dorottya! They truly have a 5* service and it's consistent through all the departments, everyone was so warm and nice. Thank you to Mate (the FOM) for an incredible welcome upon arrival, super smooth, kind and friendly, he truly made us feel at home.
Couldn't recommend this hotel enough and can't wait to come back! Keep up the amazing work!"
Amazing opinions from extremely satisfied guests – you would expect no less when you're rated Best of the Best – among the top 25 hotels in Europe! Congratulations again to Hotel Clarke Budapest!
---
Moving to the very western edge of Europe now on the emerald isle, we find ourself in Ireland:
Rated 17 in the Top 25 Hotels in Ireland
Sligo Park Hotel
"Explore Sligo and Stay with the Best at the Sligo Park Hotel and experience all Sligo has to offer"
Sligo, Ireland | Website
Rated #1 of 8 hotels in Sligo
Ranking 4.5 🟢🟢🟢🟢◻️ based on 537 verified reviews
A contemporary styled hotel in lush landscaped parkland, one mile from the vibrant town of Sligo. Each bright, modern room is designed with guest comfort in mind. The bar and restaurant serve the best of local ingredients in a relaxed setting popular with locals and guests. There is a superb health and leisure club and it's also a very popular wedding venue.
Being named on of the 25 best hotels in Ireland is no mean feat.
Anyone who has stayed in Ireland knows that Irish hospitality has a special warmth to it. Often referred to as "handshake hospitality", staing at a property in Ireland starts with a warm, genuine greeting to a place where they know your name.
And add to that, that the competition is quite tough (which is great for guests!), and you will soon realise the significance of that Best of the Best rating!
Therefore, huge congratulations must go to Sligo Park Hotel. They have been using GuestJoy for 18 months now to enable their guests to simply and easily customise their stay with upgrades and add-ons.
General Manager Gerard Moore thanked his committed staff and a multi-million euro programme of investment, with helping to push the Sligo Park Hotel into the top spots.
"We are especially delighted to feature in this list as the votes come from guests and Tripadvisor has a very rigorous process. That means this is authentic recognition of how we are regarded by guests and that means a lot to us. Our amazing staff have played a huge role.
"We have also benefited from investment in our conferencing facilities and have been fortunate to have hosted many successful events held by leading national bodies and organisations."
More than €5million has been spent by owners Lee Hotel Group on a complete refit of the Sligo Park's 136 bedrooms, the bar and restaurant, conference and banqueting, lobby and leisure facilities, as well as the grounds, carpark and entrance.
"In essence, it's a new Sligo Park Hotel," says Gerard, adding that he is looking forward to a strong spring-summer season with a mix of both domestic and international visitors.
A 'Stay With The Best' campaign is currently leveraging the hotel's place on the Wild Atlantic Way and capitalising on people's renewed appreciation of the outdoors following two years of lockdowns and other public health restrictions.
"Sligo has it all, beaches, mountains and lakes, which is why we say, 'Explore Sligo, Stay With The Best' – and the best is the Sligo Park Hotel," adds Gerard.
All this is so fantastic to read, but let's now hear from the guests themselves:
"Are recent stay in Sligo park hotel has been one of the most memorable hotel stays we have experienced. From receiving a room upgrade upon arrival, to restaurant staff making sure we had a great table for dinner. The staff exceeded our expectations and always had a smile. I can not recommend this hotel highly enough and look forward to our next stay."
"We booked to stay 2 nights as we were attending a wedding in sligo and the staff could not be more accommodating from the minute we made the booking. All staff were brilliant from front desk to housekeeping. We will definitely be back."
"Hotel seems to be recently updated – everything was fresh, clean, bright & modern. Bathrooms were modern & spotless. Staff were exceptionally friendly & helpful. Really had a wonderful stay. Would definitely recommend this hotel to others & would happily return."
"We had our wedding in Sligo Park Hotel in March 2022 and I cannot recommend this hotel highly enough. Whether it's a big occasion like a wedding or just a short stay the Sligo Park is just about the very best hotel I've been to in Ireland.
They really go to the Nth degree in helping with all the bits and pieces leading up to the wedding and the staff's experience is second to none. I'd like to especially thank Orla for all her help and guidance in the lead up to the wedding, she made everything so easy and put us at our ease straight away.
The staff are all amazing, anything you ask is not a problem. They are professional, kind, helpful and you're always met with a smile. Best staff I've seen in a hotel bar none.
Our wedding guests were treated like kings and queens from start to finish. The reception was amazing, The Prosecco and canapés on arrival were brilliant. The function room was stunning and the food was exceptional. The chef Chris has an unbelievable team and the service from the staff was amazing.
The rooms are spotlessly clean, they are cosy and the beds are so spacious and comfortable. The Leisure center is brilliant too.
If you are thinking of booking the Sligo Park hotel for your wedding I cannot recommend it highly enough."
With ringing endorsements like that, it's little wonder that Sligo Park Hotel claims a place in the top 25 hotels in Ireland; truly a Best of the Best.
---
Once again, huge congratulations to our wonderful customers for achieving such a high levels of service, providing such memorable stays for their guests, and truly being among the best of the best.
In part two of this article, we will be looking at 3 more GuestJoy customers who were awarded Best of the Best in the following categories:
Most romantic hotels in Europe
Most romantic hotels in Canada
Top small stays in The Netherlands
Who will they be?! Stay tuned and find out!
---
Want to know how your property could win these awards?
It's every hotelier's dream to be listed as Travellers' Choice, let along being Best of the Best.
Obviously, first and foremost is to have well-trained staff who are excellent at their jobs! Secondly, to provide your gets with a stand-out experience while at your property, and hopefully they will write a review of their stay on Tripadvisor.
But what contributes to a great guest experience? GuestJoy is a platform for hotels of all types to help make their stay that bit smoother, more memorable, and hassle-free; along with encouraging guest loyalty.
A CRM specifically designed for hotels, every facet of GuestJoy helps your guest have a fantastic time at your property, and helps bring them back for a future stay.
One part of GuestJoy is our Feedback module, which at the right moment, actively encourages guests to review their stay on Tripadvisor, resulting in more reviews on your listing and thus improving your rating and ranking over time.
Talk to us to see how we can transform your guest experience. And who knows? It might just be your property being awarded Travellers' Choice – or even better, Best of the Best – in future!
It's that time of year again – Tripadvisor has announced the properties that have earned a Travellers' Choice award for 2022.
And it goes without saying that we are thrilled to find that two in every 3 GuestJoy customers we awarded the accolade!
What are the Travellers' Choice awards?
The Travellers' Choice awards honour travellers' favorite hotels based on the reviews and opinions collected from travellers around the world on Tripadvisor over a 12-month period.
Tripadvisor's awards fall into two levels: Best of the Best and Travellers' Choice.
Travellers' Choice recognises hotels that earn consistently great reviews. Travellers' Choice award-winners are among the top 10% of listings on Tripadvisor. Tripadvisor Travellers' Choice honours select hotels that consistently demonstrate a commitment to hospitality excellence.
Travellers' Choice Best of the Best is the highest honour. The award takes into account the quality and quantity of traveler reviews and ratings, and ranks the very besthotels in specific categories and geographic areas, as rated and reviewed by travellers. Travellers' Choice Best of the Best award winners are among the top 1% of listings on Tripadvisor.
5 GuestJoy customers awarded "Best of the Best"
As fantastic an achievement it is to have a property awarded "Traveller's Choice", we were blown away to find that 5 GuestJoy customers took home a Best of the Best award – a truly amazing feat!
We plan to feature each of these 5 properties separately in the near future, as operating on such a level deserves individual recognition! So stand by for those announcements – but just as a teaser, those 5 customers were in the following categories:
Top 25 Hotels – Europe
Top 25 Hotels – Ireland
Most Romantic Hotels – Europe
Most Romantic Hotels – Canada
Top Small Stays – The Netherlands
Traveller's Choice 2022: Customer highlights
2 in every 3 customers is a massive number, so we couldn't possibly feature them all here; however, we wanted to at least tip our hat to some of our favourite properties to win the award this year – so here we go, in no partuclar order!
Hotel L'Embitu
Tallinn, Estonia | Website
Starting on our home soil of Estonia, Hotel L'Embitu is a luxury 4* Superior hotel in the very heart of Tallinn's City Centre.
We love the modern sophistication of Hotel L'Embitu; one of Tallinn's newest hotels.
Featuring 125 enchanting rooms and gorgeous suites, a rooftop restaurant with a charming Tallinn city view, and a wine and tapas cellar in the historic renovated part of the hotel, the mix of old and new is cohesive and stylish.
Here are some of the most recent comments guests had on Tripadvisor:
"Impeccable service, room, breakfast and SPA."
"Perfect weekend for couples. Excellent and rich breakfast, nice and private spa, stylish rooms with all necassary. Very good location near to Old Town and city center, shopping mall. Strongly recommended!"
"I usually do not use superlatives, but this time I will. Fabolous, fantastic, amazing etc. The hotel is new – only 1 year old, modern and very stylish. Perfect finishing quality and top design. We had a room with private sauna – very relaxing and refreshing. Great view onto park, good atmosphere and very delicious meals and good wine selection. I would certainly recommend this hotel for special occasions and celebrations. Thank you L´embitu for this wonderful stay. We´ll be back:)"
"The room was very beautiful with very comfortable bed and beautiful bathroom. The spa was a nice place to relax. The restaurant served tasty food and breakfast was very good with plenty of different items. Will be my number one choice in the future."
---
Bohinj ECO Hotel
Bohinj, Slovenia | Website
Next we move from the city to the beautiful sprawling mountains of northern Slovenia.
Located in Triglav National Park in the Julian Alps, Bohinj ECO Hotel is the first and only ECO hotel in Slovenia. It has also been awarded with an international Green Globe Certificate for sustainability.
It is also the most awarded hotel, winning different prizes and awards from public and professionals – and of course, Travellers' Choice 2022!
There is an abundance of facilties on site – including aquapark, cinema, 8 conference halls, bowling, wellness, restaurants, and more. Plus with it's sublime location, there are year-round activities available, including winter sports, hiking, biking, golf, natural wonders, watersports, fishing, and more!
Let's hear from their guests via Tripadvisor:
"I would recommend Hotel Bohinj eco. Everything was perfect. Hotel cleanliness, friendly staff, wellness area, organized ski bus just in front of the hotel. A very good idea for me was yoga, in the evening after skiing. That is the best combination 👍All the best, and thank you Bohinj Eco hotel, you made my holiday, even more beautiful 🥰"
"We've visited ECO Hotel for several times now, but every time they pull out something to impress us even more. Beside incredible location, excellent wellness,… the staff is heart of this hotel and after day or two, you'll feel like home."
"We were there second time and again everything was great. Friendly stuff, nice hotel, delicious food, good wellness and they also surprised us because we came back second year."
"Me and my boyfriend took a weekend trip to Bohinj. We really enjoyed the surroundings and the hotel service of the hotel. The value was great for the location. Also breakfast and dinner at the hotel were top notch, we were so full, we did not eat lunch during the day. We will come back 🙂"
---
Carlton Hotel, Dublin Airport
Dublin, Ireland | Website
The bigger the city, the busier the airport. The busier the airport, the more airport hotels you will have. Just as with any other type of hotel, competition is fierce, meaning that online reviews are crucial.
With that in mind, we congratulate the Carlton Hotel Dublin Airport for their Travellers' Choice 2022 award!
More than just a place to lay your head, the Carlton features a wide range of services, including multiple restaurants and bars, meeting and conference spaces, and even caters for weddings!
A commendable aspect of the Carlton's success is how well they know the various guests that frequent the property, and how well they target each with various upgrades and add-ons to suit their stay type.
Now, over to Tripadvisor:
"Stayed overnight for business. Excellent room and facilities, very comfortable. Spacious, well ventilated and well equipped with most things you would need. Bed very comfortable and excellent WiFi throughout"
"Front staff was very nice. Check-in and check-out were easy. Room was clean and spacious. Wifi worked well. Convenient shuttle to-and-from the airport that ran on time. There are places to eat at the hotel and it is an easy drive into Dublin."
"I stay here all the time. All the staff are brilliant and friendly . They make you feel like you are at home. Absolutely love the bar staff. Was staying on my own and they made sure I was ok all the time."
"We stayed at this hotel on our recent trip to Dublin and were very impressed! We chose a balcony room which was definitely worth the extra money as the view of the planes coming in was fantastic, my son loved this. Very happy with the service. Location great as bus stop across the road to get in to the city which was only 3 euros. Very friendly staff and room very clean, perfect for our mini stay!"
---
The Mangosteen Ayurveda & Wellness Resort
Phuket, Thailand | Website
Head 10,000km from Dublin towards the east and you can end up in Phuket, where you will find The Mangosteen Ayurveda & Wellness Resort.
The number one Ayurveda Resort in Thailand, and member of Healing Hotels of the World, The Mangosteen is a family-owned and managed health boutique resort with authentic Ayurveda & Wellness Spa.
The resort offers packaged retreats, such as AyurYoga Panchakarma Retreats, Yoga Retreats, and various Healing Programs.
A relaxed tropical environment, quality accommodation and service, healthy nutrition, high end spa treatments and daily activity schedule are coming with every retreat program.
A key to the success of the Mangosteen is the connection the guests will have with everyone at the resort; including meeting the owner/operators very early in their stay.
Let's see what past guests have said on Tripadvisor:
"A great place to stay. Wonderfull resort, a kind of paradise. Extremely friendly and service-minded staff. Great pool and houses. Great food in the restaurant and good Wine from the cellar. We can only recommend Mangosteen as a great place for a relaxing vacation."
"Wow! What a great place. Between the staff, owners and the facility/grounds it was an amazing place to be in Phuket! We arrived tired and left refreshed. Thank you Mangosteen. Some highlights would be the personal service feeling without being too much. Food was great, cooking class, candlelight dinners.Massages are wonderful. The owners Hajo and Rose even arranged a few Muay Thai classes for us"
"The perfect place to relax, recharge and restart with new energy. I did 9 day Ayurveda programme. I felt home, always well taken care of and the messages and treatments were excellent and professional. I enjoyed every single moment very much and managed to reach my objective: relax and recharge. I'll be back."
"The property was calm and I could enjoy the pool, the massage, the yoga in a very relaxing way. The massage are EXCELLENT and the Yoga teachers are absolutely great. I needed a week to disconnect was just perfect."
---
Coyote Bluff Estate
Montana, United States | Website
Finally, we head over the Pacific to Montana, where you will find Coyote Bluff Estate.
Nestled atop 32 acres, it features year-round breathtaking views of Flathead Lake, Mission Mountains, and the Flathead Valley.
Guests are always astounded at the beauty of this 10,000 square-foot custom designed luxury lodge, featuring over 17 different wood species and the rustic elegance that surrounds them.
Whether it's the perfect romantic getaway, a vacation to see Glacier National Park, or looking for an elegant alternative to a hotel; Coyote Bluff Estate is designed to provide the comfort and luxury of a fine private residence.
In addition, they offer a full range of services designed to meet all guest expectations from the moment of arrival.
A truly world-class property that stuns guests as much with the highest level of service as much as the surrounding scenery, a look into the Tripadvisor reviews definitely paints a picture:
"Our stay was perfect from start to finish, from our arrival wine and nibbles to the freshly baked pastries for breakfast. The whole property is simply stunning, as are the views and the service to match. This is a 5 star property in every way and we would give plenty more if we could! We couldn't find ANYTHING to criticise and we are visiting again next year!"
"You cannot fathom the experience you will have at Coyote Bluff. We are world travellers and this has been our favourite. The hosts have thought of absolutely every little detail from music choices in your room, to alcohol selections, to concierge help with making suggestions or even booking dinner reservations! We cannot wait to come back. In fact, I second guess doing this review because that means it'll be booked even more!! Don't hesitate. Book it!"
"This property and home was astonishing! The view was incredible and pictures cannot do it justice. We had such a peaceful and wonderful stay and will definelty be back! The hospitality we were shown was really amazing!"
"A stay at this property is as close to perfect as you will find. Everything exceeded our expectations from the accommodations, unbelievable scenic views, hospitality of the hosts, and awesome fresh baked morning pastries. It was truly a stay we will never forget. If you book a stay you will not be disappointed."
---
So there you have it – literally a fraction of GuestJoy customers who were awarded Traveller's Choice in 2022! What an absolute joy to read of the success of our customers – and let's see how much better next year will be!
Are Tripadvisor reviews like these important to your property?
Reading the reviews of other guests is still one of the biggest influences on a guest's decision to book their stay at a property.
Good quality reviews are critical to your property's reputation and performance!
Did you know?
All the Tripadvisor reviews / review excerpts published in this article were collected via GuestJoy!
With GuestJoy's Feedback module, you can effortlessly boost the number of quality Tripadvisor reviews listed for your property. Watch your ranking and rating skyrocket, and you too can be a potential winner of a Traveller's Choice award – maybe even Best of the Best!
Our Feedback module is just one part of the GuestJoy CRM for hotels.
If you want to know how we can transform your property, get in touch with us today 😉
Hotel marketing helps you reach out to prospective guests and promote your business. And without it, you would struggle to succeed!
This portion of your daily job is probably the most important. As a hotelier, you must promote your hotel's facilities and services, attract new guests, and encourage loyalty. Sound simple?
Well… hotel marketing is much more than that!
Considering the hotel industry has over 700.000 hotels worldwide, investing your time (and money!) in an effective hotel marketing strategy is paramount. Although travelers' needs change over time and global events affect the way people travel, all in all, the hotel marketing principles remain the same.
In this article, I'll offer you a complete overview of hotel marketing so that you can successfully promote your hotel.
What is hotel marketing?
Hotel marketing refers to the tools and strategies set in place to promote a hotel. The purpose is to bring in as many new guests as possible, and to retain past customers.
In simple words, potential guests are eager to travel and possibly visit your hotel. All you have to do is show them your hotel's best features!
Knowing your target audience and your competition well will help you achieve your goals. If you succeed, then your hotel will be taking more bookings than ever before.
Why is hotel marketing important?
Without guests, there's no business. Showing potential guests that you are available and why they should choose you over your competitors is the role of hotel marketing.
Additionally, it's your chance to build a brand your customers trust. And if they trust your hotel, then they are more likely to tell their friends, and book with you again for future stays!
Knowing your guests
Once you understand what your guests want, it will be easier to offer exactly what they are looking for. So, how will you find out your guests' deepest desires?
Well, a good place to start is with the online reviews for your property! You'll have an insight into as to why they booked a room at your hotel. Also, you can find out what services your guests enjoy the most. Was it the superb dinner they had in your restaurant? Or the relaxing massage in your spa? Perhaps it was the wifi connection speed?
With this information, you can offer each guest precisely what they're after!
Showing your hotel off
Making guests aware of your hotel's best qualities is crucial. It might be sprawling gardens in a country estate, a stunning beach view, or something else unique at your property.
Making potential customers familiar with the best things about your hotel is key to winning them over. Some common ways to raise awareness to these things is to use email marketing, social media, or user-generated content.
Another way to do it is using promotions and special offers. Everyone loves a good deal, and I'm sure your guests are no different! When business is slow, presenting lower rates or a complimentary room upgrade will definitely capture your customer's attention.
Keeping your guests close
Top-notch service is the key to success. But in order to encourage a guest to return, you must keep them close. How? Using modern-day technology, of course!
Digital marketing plays a key role when it comes to customer engagement. Through social media, you can show your long-time customers what you've been up to. And through email marketing, you can send them exclusive one-of-a-kind offers!
Digital marketing in the hospitality industry
The rise of the internet was a turning point in world history. Every business worldwide faced a new challenge: adapt or cease to exist. As a result, marketing strategies changed drastically. They became more focused on the company's online presence and customers' buying intentions.
Considering people spend most of their time online, most hotel marketing campaigns happen on the internet. If you are not using digital marketing, then you're missing out on incredible opportunities!
Why?
It's measurable
Through digital marketing, you can actually measure your campaign's effectiveness. Explore Google Analytics to learn more about how your visitors discovered your hotel. This is also a great tool to find your target audience, understand user behavior, analyze conversion rates, and improve ads and SEO content.
It's cost-effective
In the old days, marketing was only accessible to big companies. Advertising was expensive, leaving small companies out of the competition. However, since digital marketing is considerably cheaper, any hotel can benefit.
It helps you find your audience
Through online marketing, you can find specific customers. Depending on their demographics, location, and preferences, you'll have the chance to develop a strategy focused on promoting your hotel to the right visitors.
It's where people spend most time
According to "Digital 2022" report, an average internet user spends around 7 hours online! Whether it's professional or personal usage, we spend most of our waking time browsing the web. This is why the internet is the perfect location to promote your hotel! People go online to search for accommodation options, compare rates or check on guest reviews before booking a room.
It's personalized advertising
With online marketing, you can direct your message to specific groups of customers based on their preferences and make them feel you are speaking directly to them. Email marketing is the most used option when it comes to personalization. You can segment your audience, and provide personalized information on promotions and services that truly captivate your guests.
Hotel marketing strategies
Over the last century, travelers' needs shifted, and the hospitality industry needed to adjust on several occasions. As a result, hotel owners are avid "people-readers", constantly identifying new trends that satisfy the modern guest and lead the hotel business forward.
Define what makes you different
Research your competition. Learn how they work. Find out their strong points and weaknesses. Finally, ask yourself some questions: Why is your hotel better than the one down the road? What do you offer that your guests won't find anywhere else?
This exercise is the perfect opportunity to realize how your hotel will stand out among others. Focus on showing potential guests something that your competition lacks.
Are you targeting families? Or maybe you offer pet-friendly accommodation, where families can enjoy their vacation at your hotel with their fur babies!
Map the booking journey
A customer journey map is a powerful tool since it helps you understand why some of your guests take long before completing a reservation. Additionally, you'll have a clear insight into your customer experience and how you can improve. So how do you go about it?
Create a buyer persona
Define your goals
Identify the touchpoints and stages
Retrieve data from customer surveys to compare results
Map future customer journey stages
Reward direct bookings
Every hotelier knows how important direct bookings are to hotel revenue. Besides saving a massive amount of money each year, direct bookings are also proof your guests trust your business!
So, why shouldn't you thank them?
A complimentary room upgrade, a fruit basket in their room upon arrival, or a special discount are small gestures your guests will definitely enjoy! Let them know you appreciate their preference. That they are valuable to you. That you care about their happiness!
Promote the location
Marketing your hotel is important. However, potential guests aren't booking a room only because of the amazing and expensive décor! They want to explore the surroundings. To explore your location's history and culture!
Show your customers why they should stay at your hotel:
What is there to do?
What can they visit?
What tips can you offer that only a local would know?
To complete this "information package", you can build partnerships with local businesses. This way, you can offer services that you don't provide on your hotel property and will help your guests learn more about your location.
Invest in the marketing budget during the reservation peak season
Do you know when your property's occupancy is at its highest? If you don't, then you're missing out!
Knowing the time of the year when your customers book more rooms is a great marketing opportunity! Explore the advantages of email marketing or social media advertising to reach your target audience and get more bookings. Is there a world-class event happening close to your property? Learn what that specific audience is looking for, and present your hotel as a perfect solution.
Improve your customer service
Yes… I know you've heard it a thousand times… But, the truth is that your customer service must be top-notch from the very beginning and even after your guests have checked out!
You might have a bullet-proof marketing strategy, but if your customer service fails, all your efforts will be in vain. Ensure that your staff are well trained. A customer-first mindset is key to guaranteeing your hotel is successful. However, to accomplish this goal you must provide your employees with the right tools.
Build a customer loyalty program
Repeat business is important to any organisation. But in the hotel industry, it's essential. Having returning customers means that you've successfully met their expectations. So, providing them with exclusive offers, such as special rates or free room upgrades, is a way to reward their loyalty. Additionally, you'll ensure that they will keep coming back!
Most hospitality businesses segment their customers into different levels, depending on the previous number of stays. Each new reservation will grant points or discounts that can be redeemed on the next reservation. Find out which enrich your guest experience and what services you can offer.
Take advantage of technology
Nowadays, visiting a distant hotel is easier than you think! With virtual reality, you can offer potential guests a guided tour of your property. Show them the stunning facilities and incredible services you have at their disposal in promotional content.
Provide guests with the means check-in online or visit a virtual concierge. This way, your customers will be able to make restaurant reservations and spa appointments or check for information on activities and places to visit from the convenience of their own smartphone or computer.
5 ways to successfully promote your hotel
Although marketing offers several strategies to promote your hotel, there isn't a "one-size-fits-all" solution. Regardless of the approach you choose, it must be aligned with the campaign goals and property needs. To help you get started, I'll let you know the best ways to make your hotel stand out!
1. Build a strong online presence
Most of your guests are miles away from your location. Yet, you can still keep in touch! Developing your hotel's digital presence will help you reach a wider audience while updating your most loyal customers. How?
Web design
This is your digital "home" and where you present your hotel to potential guests! So, it's important to guarantee they will easily find what they're looking for. A user-friendly web page will help your guests virtually explore your property and make a reservation.
Content marketing
Your website can be so much more than showing great hotel photos and booking a room! Along with your user-friendly website, you can build a blog and offer video content, presenting the services provided, your location, and events happening in and around your hotel.
To do so, I'd suggest getting a content management system. It will help you organize and schedule our posts and avoid duplicate content. The best part is that it is so easy to use you don't need a team of experts to take full advantage of its potential.
Search Engine Optimization (SEO)
In today's digital world, SEO is definitely the most powerful tool you'll find!
When people search online for their next destination, they often choose the first results appearing on the search engine results page. Why? It's simple! Travelers understand Google ranks the most reliable options for their search query first. In their minds, booking a room with a hotel raking first place is likely a safe choice.
Because of this, if you're looking to outrank your competitors, then you must definitely invest in SEO. It will help you please Google's algorithm and lead you to top page results.
Use on-page SEO so that Google sees you as a reliable source of information. Keyword research, optimized visual content, and backlinking are a few strategies that will definitely help you.
Paid advertising will only take you so far. For Google's algorithm, organic traffic is much more valuable since your website gets visitors without you investing money. You'll get better results if you improve your website content and use social media to promote your business.
Google Analytics provides clear information to understand user behavior and intention. By monitoring your SEO strategy, you'll be able to make needed changes that will help you reach your goals.
Conversion rate optimization
Once potential customers visit your optimized website, you must do everything you can to ensure they don't leave without booking a room!
Improving your CRO, or conversion rate optimization, means that you are actively guiding your visitors through the sales funnels and convert them into paying customers. You can set an e-mail marketing campaign and dedicated landing page providing an exclusive offer, or developing an optimized website and prompting visitors with calls to action.
Remarketing
Remarketing is another strategy you can use to bolster your conversion rate.
Imagine someone visiting your website. You can clearly see what they were looking for but, for someone reason, they left without booking a room. Why did that happen? Maybe they found a better offer elsewhere? Or maybe, they just didn't have enough time to complete the reservation!
With remarketing, you'll be reminding your visitors about their buying intentions so that they return and finish the booking process. Email marketing campaigns and social media ads are usually the most used options.
2. Manage your guests' preferences
In a people-centered business such as the hotel industry, knowing your guests well will help you succeed. As your hotel brand grows, so to does your customer base. For that reason, it becomes increasingly harder to know every guest by name.
Customer relationship management (CRM) software is the perfect tool to help you meet your guests' expectations. Besides saving contact details, you'll have the opportunity to collect detailed information on their preferences and reservation records.
With a CRM platform, you'll have a unique database to keep your customers engaged. Besides, you can use this valuable information to build a loyalty program and boost repeated guest reservations.
3. Email your guests every now and then
Email marketing campaigns are a cost-effective strategy that's perfect for up swinging direct bookings and increasing customer loyalty.
However, before reaching out to your customers, ensure that you have their permission to use their contacts for marketing purposes. In Europe, the United States, and Canada, for example, there are strict regulations when it comes to data protection.
A CRM tool is key to building an email marketing campaign. You can segment your guests and offer them valuable and exclusive offers they will love.
4. Engage your customers through social media
Scrolling through social media has become a routine for most of us. Without even realizing it, we find ourselves reading the news headlines, checking on what our friends have been up to, and following our favorite celebrities.
In fact, users stated they felt inspired to travel after seeing their friend's social media posts. And more than 70% said that they post photos of their vacations on social media.
For hotels, this is the perfect opportunity to promote business! Besides posting content on hotel facilities and services, you can use it to engage with customers. Offer last-minute deals or limited availability for exclusive offers. The fear of missing out will be so overwhelming that your guests will definitely book a room!
5. Work side by side with third-party channels
I know that as a hotelier, commissions are at the front of your mind when it comes to third-party channels. Even though you might be eager to convert these commissions into direct revenue for your hotel, they do serve a purpose: third-party channels help you gain visibility with a broader audience that you would struggle to find on your own!
Global Distribution System (GDS)
Travel agencies and travel operators use this system to get better deals with hotels when making a reservation for their clients. For hotels, it means defining contract rates, allotments, booking windows, and blackout dates that no other partners will have access to.
If you're new to the hotel industry, this might seem tricky. Yet, with a channel manager, you'll be able to upload the contract information to the system. This way, your hotel availability is always updated.
Online Travel Agencies (OTAs)
As a traveler, if you haven't booked a room with a tour operator or directly with the hotel, chances are that you used an online travel agency. The same happens to your customers!
Popular platforms, such as Booking.com or Expedia, show your property to millions of potential guests worldwide. By defining the search filters, travelers will find your hotel, among others ranking for similar rates, services, and location.
Because of that, you must use high-quality photos of your hotel and encourage guests to leave positive online reviews on their stay. Hopefully you'll outrank your competitors, and potential guests are more likely to book their stay with you!
Metasearch
Another way to use third-party channels to your advantage is using metasearch. Ever heard of this before? In a few words, metasearch engines, such as Trivago or TripAdvisor, gather information on hotel rooms and present it to potential guests.
For guests, it's easier to compare rates and services and find the best deals. However, their journey to complete the purchase will be longer, as they will be redirected to different third-party websites.
To overcome a high abandonment rate, guarantee that guests will see the same rates for each room type or use a remarketing strategy. If your guests get lost along the journey, they will easily get back on track to complete the reservation.
How to build a solid hotel marketing strategy
Designing a marketing strategy is key for your business to succeed! Whether it's a boutique hotel or an international hotel chain, you can get great results with proper planning. Now that you know which marketing strategies professionals use, it's time to put your knowledge to good use!
1. Build a business summary
The marketing plan intends to provide clear information on your hotel to marketers and other professionals dealing with the communication strategy. For that reason, start by clearly identifying your hotel. Include the hotel's name and location. Additionally, state your mission, vision, and values.
2. Conduct extensive market research
A comprehensive analysis of your competitors and customers will help you identify the right resources to reach your target audience.
Identify the market and your competitors
Start by researching the current state of the travel industry. Then, decide which date is most important and how you'll use it to predict future trends and growth projections.
At this point, you can use a SWOT analysis to identify your competitors. It will be your chance to identify their strengths, weaknesses, opportunities, and threats. You'll be able to state what their business lacks and how you can fill in the gaps.
Identify your target audience
Your ideal customer will be the one buying your services. That's why you must know who they are! Once your market research is complete, it will be easier to identify who is more likely to stay at your hotel. That will be your target audience.
Demographic information, such as age and gender, will help you understand your customers. However, it is also important to consider their location, profession, education level, preferences, and needs.
3. Define your marketing goals
Your goals should be crystal clear! People around you must understand your vision and what you hope to achieve. Besides which, it will be easier to analyze your campaign success in the future.
One way to master your goals statement is to use the SMART strategy. This method stands for goals that are Specific, Measurable, Attainable, Relevant, and Time-bound.
How does this apply to you?
Let's say that for your next marketing campaign, your goal is to increase your revenue on direct bookings by 15% until the end of the year. Using the SMART strategy, it would look something like this:
Specific – ask yourself who should be in charge of this goal and what you need to accomplish it. Be as detailed as possible.
Measurable – using numbers is a great approach to attain a measurable goal. In this example, the 15% increase is as clear as it can be.
Achievable – identify which strategies you must put into action to attain your goal. It can be offering a lower rate for repeated guests or walk-ins or depend less on online travel agencies.
Relevant – for your plan to succeed, it is important that your goals are meaningful to your company. It will allow you to focus on what's important.
Time-bound – when mentioning "until the end of the year" you are identifying until when you will take this goal into action.
4. Pinpoint your budget
Establishing a budget is a crucial phase where you guarantee you have enough resources to accomplish your goals. Once you've done your market research and identified who's your target audience, it is time to decide how much you are willing to spend. A well-designed financial plan will help you decide on the marketing channels.
5. Marketing channels
Now is the time to set your plan in motion!
Decide how you want to reach your audience. If you're just starting and are lucky enough to have a big budget, then go for sponsored content, pay-per-click, or native advertising. On the other hand, if you're managing a hotel with a small budget, then put all your efforts into social media, email marketing, and personalized advertising.
With these tips, I'm sure you'll create a thriving marketing plan!
Key concepts you must know
Allotment – refers to a number of rooms hotels must always have available to a specific travel agency.
Blackout dates – Upon signing a contract with a travel agency, the hotel defines specific dates that cannot be booked by travel agents.
Booking window – refers to the period between a reservation being made and the guest's arrival.
Brand awareness – refers to how familiar customers are with a brand and its products or services.
Conversion – refers to the moment when a visitor turns into a paying customer.
Consumer behavior – studies how customers satisfy their needs and desires when choosing, buying, and using goods or services.
Marketing channels – refer to the activities, people, and organizations that promote products and services to customers.
Personalization – refers to using personal information to promote products and services to a targeted customer.
Final thoughts
Hotel marketing plays a vital role in today's travel industry. Considering accommodation is one of the largest expense people have while planning a trip, it is no wonder it quickly became a multi-billion dollar industry.
For this reason, hotel marketing has the job of connecting the right guests with the right services. It offers them the opportunity to enjoy the best customer experience, starting with the booking process.
However, the success of any hotel marketing strategy lies in other equally important factors. Impeccable customer service will highly affect your guests' intent to return. Consequently, it will affect your ability to attract new customers and increase revenue. And, with a less income, it will be harder to improve your hotel facilities or pay better wages for high-performing employees.
As you can see, an effective marketing strategy will help you bring in potential customers and win repeat business. Yet it still matters to all departments within your hotel.
Guaranteeing your strategy is aligned with the service provided isn't always easy. However, GuestJoy will help you achieve your goals effortlessly. With GuestJoy, you can present upsell opportunities, concierge services like online check-in, collect feedback an encourage positive reviews online, and much more. Take a moment out of your busy schedule and request a demo today!
Resources
For further readings, we recommend you the following articles:
As Spring slowly takes hold and begins to warm things up, you're probably looking forward to (or not looking forward to – no judgement!) the busy high season. High occupancy, good vibes, and revenue figures that are pleasing to the eye.
But prior to that busiest time of year, there's good cause for you to focus more on room upgrades at your property. In fact, it wouldn't be hyperbole to say that you should never underestimate the value that room upgrades bring to your business, notwithstanding your guest!
The revenue 💸
It might seem obvious, but it bears repeating: empty rooms are missed opportunities, and the first opportunity missed is the additional revenue.
Despite the fact that we're arguably at the point of "Covid-normal", I'd hazard a guess that there are many properties doing so well that they could do without a nice bump in the bottom line.
So if you don't have particularly high occupancy yet, this is the best time to make lemonade from those lemons you have. And let's not forget that selling upgrades frees up lower tier rooms, which are more likely to be booked, yielding – you guessed it – more revenue!
The referrals 🗣️
Poke around on Google and you will quite easily find multiple studies that state a sizeable majority of guests check property reviews as part of the booking process. However, there is an even greater influence on the booking process, and that's word of mouth.
Providing such a good experience that a guest gives your property an organic referral should be what we aim for with every reservation. Room upgrades are one of the easiest ways to make your guests' stay more memorable, more enjoyable, and therefore potentially get them to drop your name in conversation.
Picture it: two friends, work colleagues, whatever you like. One says they're thinking of booking a stay in Barcelona for their Summer break. The other immediately chimes in and recounts how they stayed at your property not long ago on their Barcelona trip, that they took a room upgrade and they were so happy with it, they loved the view and especially the luxurious bathroom, and so on… It would be a safe bet that they would be looking up your property after such a glowing referral! That's the power of word of mouth.
The rebookings ❤️
Following on from a great stay in a higher category room, a happy guest is far more likely to re-book with you because of their past experience.
Now of course, there is a portion of guests for whom this would never apply, and that's fine. But there are many reservation types that would factor this in to their decision making process when they are planning to return to your part of the world:
Larger cities: I know that I couldn't do everything I want to do in London with just one stay!
Celebrators: Guests who stay with you for a special occasion are more likely to book again after having such a good experience the first time round
Event travellers: Whether it was for a concert, sporting event, or anything else really – if a guest had such a good first stay with you, why risk going with an unknown quantity?
Regular holidaymakers: There is always a portion of guests who enjoy going to the same city, town, or village as part of their routine, for example an annual break. Make yours the property they want to keep returning to.
5 ways to help maximise upgrade conversions
And now, here are the most important things to do to ensure you can convert as many guests as possible:
Timing is everything
Why didn't your guest opt for a higher category room when they made their booking? The answer is simple.
When making the initial reservation, most guests are conservative. Since this is the biggest expense of their trip along with flights (if applicable), they are using their booking wallet. They're trying to keep the overall cost down.
But as time for their trip draws closer, they open their vacation wallet. The emotion of the journey invites them to enjoy and live a little. Thus, presenting guests with the chance to upgrade to a better room not too long before their arrival is going to yield the best results.
Incentivise the guest
Sometimes your guest might need a little bit of gentle persuasion in order to splash out. Consider teaming your room upgrade with an added bonus; for example, if the guest takes the upgrade and dines in your restaurant, they get a complimentary bottle of wine.
Sometimes it's the little flourishes that you can add which really make the difference in your guest's mind!
Use a little FOMO
One of the most consistent techniques to apply is that of scarcity. In your communications with your guest, consider using phrases and language that prompts them to take action, lest they miss out on the opportunity.
"We only have a few rooms of this category available – thought you might like to know!"
"Almost sold out at this price!"
"Get in quickly before another guest snaps it up!"
Discounts work!
The other key incentive is displaying a discounted price. It's consumer psychology 101; if a guest knows that they would secure the deal for a cheaper-than-advertised price, then it's going to drive conversions.
Who hasn't wanted to stay in a high-tier room, but never did because of the added expense? Well, even just seeing that "%" symbol can trigger the reaction in your guest that this is going to be their chance.
Don't just offer the room
Be creative! You know the reasons guests choose to stay with you – or at least you should – target those guests with a room upgrade package!
Celebrators: If you know guests stay at your property for things like birthdays and anniversaries, cater to them and make a package. Why stop at just upgrading the room? Include extras like wine, cakes, rose petals, flowers, hand-written notes, decorations – there's so much room for creativity and your guests will absolutely love it!
Girls' nights/weekends: When the girls are going to get together, their propensity for splashing out a little more increases. Pair the room upgrade with a bottle of chilled Prosecco and canapes, in preparation for their big night out.
Older couples: These guests still like to have a splurge; perhaps just not as dramatically as the previous personas. Pair the room upgrade with a sumptuous set menu dinner, tickets to a local attraction, or a delicious selection of gourmet treats – think cheese boards, pate, dips, and so on.
So what do you think? Are you going to revisit your room upgrade strategy? What other guest personas stay at your property, and how could you better engage them?
Remember, aside from pushing up your bottom line, you're going to provide your guest with a more memorable experience! And that makes it far more likely they'll think of you for their next booking, or also refer you to a friend or colleague.
Think about this for a moment: How often have you bought or booked something after getting an email from a brand or company?
Probably several times…
And you're not alone. Many people do so on a regular basis because it's easy and fun. That's why email marketing is one of the most effective marketing channels today, according to the Wall Street Journal. 
Take advantage of this to promote your hotel. Get creative and leverage the guest contact data you already have in your system.
From saving on distribution costs to growing brand awareness and scaling your outreach to new and repeat guests, discover the benefits email marketing can offer your hotel.
What is email marketing?
Broadly defined, email marketing is a form of direct marketing. It means sending promotional or commercial emails to people who have given you permission to do so. In the marketing world, these contacts are known as your list, your subscribers or your email database.
Why is email marketing a powerful tool for hotels?
Research shows that email is the most effective marketing channel today with an average ROI of 36. That means for every $1 you spend on email marketing, you can generate an impressive $36 of revenue. And yes, that beats all other types of promotion including social media or paid ads.
There are several reasons why email performs so well. First, it's a highly accepted form of communication among all demographics from Baby Boomers to GenZ. That means you can use this single channel to reach a wide variety of age groups.
For many people, email feels less invasive than cold calls, SMS or social media marketing. But since you regularly get right in front of your target audience in their inbox, emails offer a powerful way to build and nurture relationships.
Email is also highly customisable and flexible. You can schedule and automate it to reach the right person with the right message at the right time during their customer journey. For example, after sending your usual hotel confirmation email, you can follow up with a hotel pre-arrival email full of special offers and useful information.
Finally, you can create targeted campaigns for different guest segments (e.g. repeat clients, one-time guests, new subscribers, various age groups…) to promote specific deals to certain target groups.
All this makes email extremely effective at driving qualified traffic to your website and generating more commission-free direct bookings.
Finally, let's not forget the data and analytics side. With email, it's easy to test new promotions or message styles. Results are clearly measurable and offer insights into where you're doing well and where you should improve.
The increased relevance of email marketing today
Overall demand is still lower than pre-pandemic in many markets, partly because international travel has not returned to pre-Covid levels. It will likely stay that way for a while since many people are still keener on travelling closer to home.
In this situation, it's especially important to leverage the connection you have with past guests. Particularly loyal clients who live nearby and can come by car or train are an invaluable source of business today.
Use email to stay in touch with them and build a stronger relationship with people who have expressed an interest in your hotel. This creates chances to generate more high-value direct bookings that will help get your business through these tough times.
Here, the high ROI and comparatively low cost of hotel email marketing has another enormous benefit. Since this form of promotion is so cost-effective, it remains viable even if you're working with a slashed marketing budget. 
How to get started with email marketing at your hotel
A good email management system lays the foundation for your email marketing. It allows you to keep your list organised and to control your email marketing campaigns.
A generic provider like MailChimp or Mailerlite can be good when getting your feet wet. While these cost-effective email marketing tools offer important basic capabilities, they're limited when it comes to leveraging the guest data saved in your PMS. Since this is the key to creating highly personalised and targeted campaigns, a more sophisticated solution is needed if you want to get serious about email marketing.
This is where a specialised customer relationship management solution (CRM) for the hospitality industry comes in.
It automatically pulls guest data from your PMS via a two-way integration. This includes information such as the number and length of previous stays, which package or rate code they booked, their birthdate, age, party size (e.g. couples or families with kids) and any other relevant details.
With this data, you can implement a targeted email marketing strategy, segment guests and ensure they only receive relevant emails. This leads to increased open rates, more engagement, boosted email conversion rates and a higher return on investment.
How to gain more subscribers for your hotel
You probably already have a lot of emails saved in your PMS from past and current guests. They can form the base of your email list.
Next, it's time to grow your list of subscribers. Here are a few easy options to consider:
Add sign-up boxes to your website and offer site visitors a perk (e.g. a small discount for their booking or a destination guide) for sharing their email address. This works well among people in the planning process but not for current or past guests as they rarely return to the hotel's website.
Set up a Wi-Fi restriction. Ask for a person's email address when they sign in to your hotel's public Wi-Fi and add a checkbox that lets them sign up for your list. This helps you get sign-ups from both in-house guests as well as outside clients visiting dining venues or the spa.
Have your receptionists ask guests if they want to subscribe during check-in or -out. While this can bring results, the manual data entry means more work for your team. Here, it's also hard to prove that the guest opted in unless you store the paper form.
Save time and energy by gathering emails with a CRM. Set it up to automatically propose a sign-up during the online check-in, in upselling offers, as part of the directory or while requesting guest feedback. This cuts back on manual work, gets more eyeballs onto your opt-in and makes the subscription process easier for guests.
Managing your subscribers
Finally, a quick note on email database management and keeping subscribers happy and engaged.
Use powerful, interesting subject lines and body text. Hint at what guests might find inside your email to build curiosity and boost your open rates. Keep it up in the email itself. Present special offers in an intriguing way to drive conversion rates and keep readers wanting more.
Follow the rules. Ensure that you follow the current email marketing and data protection guidelines in your country, e.g. the EU's GDPR. This protects your guest's interest and shields you from potential legal issues.
Don't overdo it. When guests trust you with their email address, they expect you to be respectful of their inbox. Don't bombard them with endless promotions and irrelevant messages. Instead, leverage segmentation to send a few special offers and updates at appropriate intervals. Ask yourself if you'd be happy to receive each email before hitting send. If so, that's your green light.
Accept farewells. Seeing people unsubscribe is part of email marketing. Respect when someone opts out and don't contact them again unless they request it. While it may seem unpleasant, your unsubscribe rate is a valuable metric. Monitor it to spot shifts and see if you need to improve your segmentation or email content.
Ideas for different types of emails to send to your list
Email marketing encompasses several different types of emails. Below you'll find the three main kinds that are relevant to email marketing for hotels plus some ideas to inspire your next email marketing campaigns.
General newsletter: an informative email you send out at fixed intervals, e.g. monthly or every two weeks.
Share news about:
The hotel (e.g. awards, renovations…)
Current or upcoming events and promotions
Other details that add value for your readers
Seasonal or limited-time promotion: a standalone email to promote one specific offer. This could include:

Flash deals
A last-minute sale, e.g. to drive business on shoulder days
Your summer weekend special for local guests
Referral bonus for past guests

Targeted campaign: one or several emails you send to a specific group of guests to promote an offer that's relevant to them.
Here are some ideas:
A special family deal
Preferential conditions or exclusive offers for your regulars
Couples' getaways
Any other offers that are geared towards a certain segment
In all cases, the goal is to build or maintain brand awareness, nurture your client relationships and drive sales. That way you stay at the front of people's minds and they think of you first, when it's time to plan a trip. This is a fantastic way to drive repeat bookings from past guests and benefit from their low acquisition cost.
As you can see, email marketing has many benefits for hotels. It's cost-effective and it offers numerous ways to drive business all while nurturing the relationship with your guests.
And with the right tools, you can take advantage of all this without adding hours of extra work to your day.
Now, what do you think – how much could your property benefit from this?
GuestJoy now covers even more of the guest journey, ensuring guests have a seamless stay, and hoteliers can update their directories with ease.
---
Tallinn, Estonia, January 10th 2022: GuestJoy's mission is to make it easy for hoteliers to provide their guests with a modern experience, and this is further underscored with the release of their new Guest Directory module.
Fitting in seamlessly with GuestJoy's other modules, Guest Directory is certain to save hoteliers time and frustration, while enabling guests to access important hotel information in a way they expect to in 2022 – using their smart devices.
"Adding a Directory module to GuestJoy's suite of tools simply made sense," comments Alar Ülem, co-founder of GuestJoy. "After the initial shock of covid, hotels started to take up our online Check-in module in earnest. It proved that at the end of the day, guests were happy to embrace digital hotel experiences, and so now we've modernized the guest directory experience as well."
The Guest Directory module sits alongside GuestJoy's other modules, including Check-in, Upsell, Feedback, and Announcements.
Simplicity was the goal in designing the module, explains Andrew Martin, GuestJoy's Customer Experience Manager. "No hotelier looks forward to updating their in-room directories. In fact, it's often neglected due to the time and costs involved. That usually results in half-measures being used as workarounds. I've stayed in many properties where the directory had single pieces of information "redacted" with a black marker, or entire sections of information covered with a sticker to update it, rather than re-print every directory. So, our focus was to make updating the information in the directory as simple as possible. This means that updating the directory can be done in seconds – instead of days or weeks – and with no cost associated with it."
Andrew continued to explain the experience for the guest. "We knew that having an app to download was never going to be an option – there are simply too many hurdles with apps.
"First, will the guest actually be bothered downloading and installing an app for what could potentially be the only time they stay in that property? Do they have space available on their device? Is their device compatible with the version of the app? These barriers and more really do make an app a poor choice.
"Therefore, we opted for a web app, which is a website that looks and behaves just like an app on your phone. It's accessed instantly by scanning a QR code, so it's quick and easy. There are many benefits to QR codes as well; they can be printed and displayed in the room, as well as in any other part of the property. Also, they can be made to look quite stylish as well.
"With the advent of the Covid-19 pandemic, and subsequent rules stipulating certain cleaning measures in hotels (or in some cases, guest expectations of such measures), a physical in-room guest directory was seen as both a complex, time-consuming cleaning touch point on the hotel's side, and a risk of or being perceived as unclean from the guest's perspective.
"With the advent of this great new module, hoteliers are in a definite win-win situation; no more putting off updating guest directories, and guests can access hotel information in a manner that they simply expect to in this day and age." Andrew concluded.
GuestJoy's Directory module is available on its own, or accompanied by the other modules to produce a seamless, complete guest experience.
About GuestJoy
A complete guest experience platform, GuestJoy enables hotels of all styles and sizes to provide their guests with a modern stay, with upselling, online check-in, announcements, feedback, and a digital guest directory in one.
Reach out to your guests with upsell offers tailored to them before they arrive at your property. Impress and delight your guests with upgrades, services, and products that will enhance their stay with you, all while maximizing revPAR – without your team doing a single thing!
Besides the Upselling emails, you have the possibility to send announcements to a select group of guests based on a date range. No more individual emails!
Our online check-in feature is seamless, easy to use, fast and fully customizable. This will save you time, work and it's contactless.
Once guests are at your property, they can seamlessly access your digital room directory to find any property information they need – no app download is required.
GuestJoy's feedback module will allow you to ask for reviews, retarget and handle any issue immediately.
What does a hotelier need in 2022? Proven, smooth technology. But how can you make the best choice? And what do you need to factor in when implementing new hotel technology? Will the personal touch forever disappear, or will hospitality continue being a face-to-face service?
Our Dutch friend and partner – Hendrik Jan Jenner – has tried many, and he is here to answer your questions!
Annika: Regarding the benefits of upgrading your technology; what is your opinion on technology in hospitality? Should a hotelier keep up to date?
Hendrik Jan: In my opinion, all hotels should do a monthly or bi-monthly check whether they are using software that actually helps them. Compare prices, check features; there are many great websites like Hotelminder, Hotelhero, Revfine and Hoteltechreport to help.
A good example; we always wanted to know whether our guests are business travellers or leisure, and what they are most interested in. So we added this into our tech solution. With GuestJoy I can always ask the purpose of the stay, and the guests can fill it out in their own time; no need to bother them personally!
Annika: Guest needs – let's talk about it! What do you think guests need in 2022, and beyond? How can technology help?
Hendrik Jan: Package deals are always a win. It's an easy and full option for the guest to pick, a very convenient choice.
Today's guests want to be able to pick, mix & match whatever they like from the hotel's options. You have all these deals and options available, but what if your guest doesn't like museums? Or do they prefer sports? They do not want to see offers that are not interesting for them. That's clutter on their screen. It's crucial that you provide what your guest likes, and content that is customised for them.
Annika: GuestJoy's segmentation can come in very handy here. We are able to show 'romantic' offers for travelling couples, kids offers for families, and much more.
Exactly, I love the fact that in GuestJoy I can add segments and make sure that every guest gets an offer that is tailored to their needs. Here I think that technology can predict even better guest needs. You know straight the demographics, length of stay, room type and etc that is a great indicator for sending out the right offer. This way guests feel more engaged.


Annika: How do you engage with guests in general?
Hendrik Jan: We were using an upselling solution but we felt that it was not enough. You need to do so much more than upselling to guests. Therefore we started looking for a solution that could help us with the entire digital guest experience. We were very happy to find GuestJoy.
Annika: Do you see that the PMS should be flexible?
Mews and GuestJoy exchanging all the information automatically save me a bunch of time. I appreciate how both softwares have multiple functionalities.
The moment I heard that guests can enter credit card details into GuestJoy I was sold. Guests can now fully check-in, on their own time without any of us working at the front desk.
Annika: And when you choose tech, do you base it on local opinions or general reviews? What're your criterias?

Hendrik Jan: I need to be able to trust the product. The brand, the promises they make.
Obviously, investment and return is key, but it's not often available immediately. It's always nice when the hotel tech company has some data, possibly from another hotel. I'd like to see how a tool is used and what it brings to other properties.
---
About Hendrik
Hendrik Jan Jenner is the Revenue Manager of Luxury Suites Amsterdam and Black Label Hotels He started out working in a restaurant to finance his studies, but after an interest in leadership and performance analytics, he took up a role in restaurant management.
Soon, the desire to master the art of hospitality was born in him and he was able to switch to a hotel position as Revenue Manager. His employer supported him to get a degree from the University of Cornell in Hospitality, and since then he has been working in Amsterdam, The Netherlands.
Back when I worked in hotels, we never had a chance to try out integrations. To be honest, I didn´t even think about it. But maybe I should have, because one of the reasons I left hospitality was that I was always occupied with too many monotonous tasks.
In other words, I just got tired.
We can easily jump into some of the basic tasks that I had to do every day. First of all was housekeeping.
It was madness to change the status of the rooms every single minute. Sometimes guests would wait in the lobby and I'd run to find one of the cleaning staff to double-check if the room had been cleaned.
It's hard to imagine this happening today, because housekeeping solutions like Optii give you that sort of information instantly.
There was a revolutionary moment – when we started using a channel manager. I could finally take some time off!
However, it was not uncommon that when I was jogging, travelling, or doing whatever pleased me and I had to stop all my activities to close availability in every OTA. And trust me – sometimes I was too late!
Perhaps one of the worst examples was when I was holidaying in Spain, and got a call saying the hotel was overbooked. I spent the next 2 hours sorting that out.
(But some say that overbookings are a way to make revenue 😀 A good question for revenue managers??)
In most of my roles, upselling and cross-selling too were tasks required of me.
At one point we had too many coupons and discount codes for services and upgrades to give to every arriving guest.
So, we decided to design an envelope with our own logo. It seemed like a brilliant solution: You give it to the guest and don't have to explain anything at all. So we waited and waited for our guests to start checking the envelope and buy our services.
Looking back now, none of it was ever going to work effectively.
But as strange as it sounds, we never looked for different solutions, nor considered changing our PMS. It never occurred to me because I was too busy designing envelopes, changes prices, chasing housekeeping, and communicating with guests.
Then, there was guest feedback to deal with.
Here is a business card with TripAdvisor review instructions:
We would give these to these guests who were happy enough that we thought they would leave us a good review. And if one was given to the wrong guest… 🙈
Laughable today, because guests expect a hotel will request their feedback from a post-stay email or SMS.
I think that hospitality has taken huge steps forward and now all that can be managed automatically. We still see similar patterns in some hotels but I am sure that the pandemic will slowly shift these mindsets.
In an ideal world, we should start with the PMS (Property Management System). It is the foundation of the hotel. There are numerous cloud-based solutions that connect with hundreds of supporting and complementary systems.
I remember one of my challenges was selling room upgrades. There was huge earning potential, but we ended up upgrading guests for free. In today's world, it shouldn't happen anymore. At GuestJoy, we have built two-way integrations with the most well-known PMS vendors to facilitate the possibility to upgrade rooms automatically.
The process would go something like this: Guests get a pre-stay email with possible upgrade options. When the guest browses them, only see the available room types. The guest can see pictures and what is included in the room, and if they find the offer attractive enough, click Book. This changes the room type in the PMS. It is not only a perfect guest experience but also increases upgrade revenue by 30%. That's how seamlessly the process takes place!
Another regular question is about the early check-in or late check-out. I think hoteliers are asking too much from their guests by making them request it via email; again, you can create an upsell offer looking something like this and they can request it immediately.
Upselling is not complicated. Just gather all your additional services and add them to Guestjoy and start your digital guest experience.
The popularity of checking in online for hotel stays has dramatically increased over the past 12 months, and with good reason. The very notion of a guest manually filling out a paper form in this day and age seems archaic to most travellers now.
Seamless two-way integration takes care of it all, both providing the guest with a smoother arrival, and freeing up staff from repetitive manual labour. An added benefit is that it's not only convenient for the guest, but also paperless to keep the environment green.
Times have changed so much and I'm sure will change even more in the coming years. Thanks to innovation it will attract more youngsters to join hospitality and run businesses very effectively. Who knows – I might even return to it myself someday! 😊
Hospitality has changed forever. Gone are the days of carefree travelers. The future is for safety-conscious guests who at least for now try to minimize any physical contact and enjoy their vacation or business trip. To provide a good service to this new breed of travelers means you also have to change. The key is digital transformation and it will help you solve two big problems many property managers are experiencing
Your current hotel experience is not what your guests expect
During the pandemic, e-commerce has risen by 19%. This means more and more people are accustomed to online ordering and self-service. This trend has moved to hospitality. Online offers convenience that is hard to rival. Most young people hate the fact that they must go to a front desk to clear an issue or call to order something. Guests just expect more.
The self-service low-touch traveler trend was already here before the pandemic, now it merely accelerated. The modern guest does not like to go to your front desk to ask for help. They want to use their phone, to customize their experience. They want to let you know immediately if something is bad. They want to order services using their smartphones, not browse the directories next to the phone. If your property is not able to provide that, your guest satisfaction will be significantly lower.
Solution
The solution is digitalizing the guest journey to enable all these things. To allow the guest to reach out to you when THEY want, using a device they are most comfortable with, their phone.
We found that 84% of consumers are more inclined to do business with organizations that offer self-service options, but only 61% agree that organizations are providing easy, convenient self-service.

Forbes
It will improve your guest satisfaction. More and more studies show that guest satisfaction is higher when guests are engaged vs passive guests. Tripadvisor's Travellers' choice is a testament to that.
Finding good people is hard
This leads to our second problem. This is the biggest internal challenge most hoteliers face with. There are many articles about hoteliers being unable to find people (article, article) and this could have a massive impact on recovery. There are many reasons behind it. One is definitely low salaries. The hospitality industry is notorious for that. If a front-office worker earns 25% of the salary a manager does, where is the motivation?
The second issue is seasonality. The hotel business has always been seasonal. But at least it was predictable. But now with the pandemic, countries go into lock-down semi-randomly. Try to find people working in this environment. Let alone investing time into training them.
Solution
By digitalizing your guest experience, you reduce the reliance on the workforce significantly while maintaining the same service levels. Those hotels that embrace this, will outperform those, who are stuck in the old way of doing business.
Service industry automation is coming and will change a lot. It will impact the livelihood of some people. But that is the harsh reality. Fewer employees mean reduced cost and by automating some aspects of the customer service, your staff can focus on less menial tasks thus actually earning more tips.
Conclusion
The hospitality industry is changing. First were the OTAs, then came AirBnb and now the pandemic. Change is something you shouldn't be afraid of. It creates opportunity. If your business model was struggling before, use this moment to adapt and do things differently. By embracing technology, you will stay ahead of the hotel across the street. I know it is tempting to go back to your old habits, but you will risk becoming obsolete.
The cooperation between Hotsoft PMS and GuestJoy takes digital guest communication to a completely new level. The world won´t be the same anymore and also hospitality needs to take a new course. Digital guest communication is becoming part of our daily life. Online check-in to fasten the check-in process or choosing suitable services before the actual arrival date will make life more comfortable for the guests but also takes away repetitive tasks from a receptionist. The result will be a better digital guest experience and not less important is the time-saving.
How does it work?
The two-way API interface between Hotsoft PMS and GuestJoy enables hoteliers to create digital guest experiences using a single product. Once the integration is set up, the data flow between Hotsoft and GuestJoy is seamless. Updates made in GuestJoy appear in the guest folio.
Key benefits this new two-way integration brings
Update check-in data in the PMS without manual entry
Update orders and add to guest folio
Upsell goes straight to invoicing
Real-time room availability check and automated room upgrades
More frequent updates (once an hour vs once a day with the old one)
More segmentation fields
About GuestJoy
Leading Guest experience platform. The preferred choice among modern hoteliers who want to digitalise their guest experience but avoid using multiple standalone systems. Designed to simplify the life of you and your guests. GuestJoy is trusted by hundreds of properties in 25 countries.
About Hotsoft
Hoist Group's HotSoft PMS is an industry-leading Property Management System (PMS). It has proven its value for over 1,500 multi-property groups, small and large hotels, B&B's, Spa's, Resorts, and various other hospitality businesses.
It enables you to manage all your daily hotel operations easily. It gives you control of your booking process as well as your guest journey. It helps you implement an end-to-end Mobile Guest Journey including online reservation, mobile check-in and check-out as well as mobile room keys.
HotSoft PMS is a single, easy-to-use, seamless cloud-based PMS solution that comes with a wide choice of modules you can choose from.
I wanted to get talking with hoteliers after the past year's challenges. Hospitality as an industry came together remarkably during the pandemic and a lot of us found creative ways to survive, help each other, and educate ourselves. How did hoteliers do it? What are the tactics they used to keep their businesses afloat? What helped them?
This is Paul's story from Losehill House, UK.
Paul Roden, owner and manager of Losehill House Hotel since 2007. The property has been hosting guests for the past 90 years and has a great history dating back to Saxon times.
The hotel grows most of the food they use at their restaurant and produces local, organic beeswax soap.
Flora: Hi Paul, tell us about your background first!
Paul: We purchased Losehill House 14 years ago, before that I was a chartered accountant. I am very dedicated to the Leisure and Hospitality industry. What I love most about using various hotel tech is that cloud-based technology allows you to manage your business 24/7 which is wonderful for workaholics like me.
Flora: We can imagine that this past year has been a challenge, what kind of changes were implemented at your property? How did your operations and work change?
Paul: The change started for us in 2019, when we embarked upon a complete upgrade of our Hotel systems. We moved to a cloud-based PMS with HotelTime as the first step. We then were able to select integrations with best in class third-party providers that allowed us to create an extensive and fully integrated solution to the hotel systems needs. That is how we stumbled upon GuestJoy.
Technology should not be difficult
Technology can be very easy to implement, your team might not be on board with it in the first place, but quieter times are perfect to make these changes that will eventually pay off. Especially if you are switching to products that are more concise, that cover multiple functionalities and are cloud-based. After all modern guests require modern solutions!

We know that this past year was financially straining, so keep in mind:
💰 How much the products that you use cost?
⬇️ Can you try new solutions at your hotel that are cheaper?
🎁 How can you create deals for your guests?
⬆️ Can you upscale for those who can finally spend?


Flora: So you have started using some new technologies. How did that work out?
Paul: The pandemic really accelerated the implementation of a whole new suite of software. Moving to cloud-based was just the first step. The role of Guestjoy in being able to communicate accurately and in a rapidly changing environment in terms of Covid 19 was invaluable. The pre-stay email and announcements, in addition to the post-stay feedback email, the engagement data really helped us assess the response of guests to our Covid safe strategy as well as other enjoyment factors.
I believe it is crucial from now on to have a guest communication tool that keeps everyone assured and feeling safe. It's not just about any virus, but your deals, offers, and hotel policy too. The fact that GuestJoy does this so smoothly made my life so much easier.

Flora: What we have been seeing technology-wise is that online check-in and guest communication tools are extremely important. Reduced staff, guests wanting more distance than before, it can all be difficult to manage. Is there any technology that you think is a necessity for any property these days?
Paul: Technology has been critical in allowing the business to continue to operate whilst we are closed – online bookings – changes in reservations, refunds and moving to future dates have all been possible with the cloud-based remote operating.
Flora: Finally, what do you think, what are the trends for this summer?
Paul: We are hopeful! I think there will be a large influx of bookings for this summer – staycations – or for later in 2021, as the UK is planning to re-open in May. The strong rates and occupancy are very encouraging. Guests are also looking to upgrade in terms of quality and experience – higher quality room, spa treatments etc because they weren't able to travel in 2020 and in the first half of 2021. The motto for this summer is definitely "treat yourself".

Keep in mind the trends 2021 brought
There are a few things new travellers and new generations definitely don't need anymore. The minibar and car rentals are a thing of the past; Gen X, Millennials and Gen Z are more about instagrammable cocktails with a nice view and ordering ridesharing services. But what else has changed?

Sustainability & Slow travel: People want memorable experiences, but most of us are aware of the impact we cause. Unique experiences that give back to local communities in meaningful ways are in demand, as are niche properties, adventurous holidays and relaxation retreats. This could be local goods, bike trips, or nature hikes with local restaurant outings, possibly in places where they serve organic food – that's another key trend to watch.

Finally, stating the obvious, smooth, fast and easy guest experiences, processes that are automated and require minimal effort from the guest. Such as online check-in, ordering extras or communicating with the hotel via a chat bot or email. Would you like to learn how to implement any of these? Click on the button below.
Hoteliers around the world need to strike a fine balance. They've been forced to streamline their operations as much as possible to gain efficiencies, save time and reduce costs – all whilst to maintain high levels of guest satisfaction and increasing RevPAR. This is only possible by balancing offline with the online guest experience. The two-way API interface between Guestline PMS and GuestJoy helps hoteliers to deliver a modern guest experience by streamlining pre-arrival processes such as upselling and guest registration.
Read more about it here
How does it work?
The two-way API interface between Guestline PMS and GuestJoy enables hoteliers to create digital guest experiences using a single product. Once the integration is set up, the data flow between Guestline and GuestJoy is seamless. Updates made in GuestJoy appear in the guest folio.
When a guest completes GuestJoy's check-in form and submits it, the information is updated in both GuesJoy and Guestline via the 2-way integration.
The reservation data received from Guestline is used to create segments, so that offers featured in the upsell email are specific to that guest.
GuestJoy is an official Tripadvisor partner and has full tracking of reviews that are submitted by GuestJoy guests.
About GuestJoy
Leading Guest experience platform. The preferred choice among modern hoteliers who want to digitalize their guest experience but avoid using multiple standalone systems. Designed to simplify the life of you and your guests. Hundreds of properties in 25 countries trust GuestJoy.
About Guestline
Guestline's multi-award-winning property management, distribution and digital marketing software for hospitality businesses are cloud-based. The software enables hospitality business owners and managers in sectors such as hotels, serviced apartments, pubs, and more, to manage bookings and operations both efficiently and profitably.
Innovative technology developments include integration with many leading third-party applications, tokenization for PCI compliance, website design and additional functionality to improve customer service and capture more revenue.
With offices in Europe and Asia, Guestline's systems are used in 25 countries across 5 continents and enable properties of all sizes to achieve maximum occupancy at the most profitable rate.
Our Marketing Manager Flora spoke with Fanny Chapel from Emerald Stay, Switzerland.
Flora: Hi Fanny, it's lovely to have a customer reach out to chat about GuestJoy. I also know that a colleague of yours has done an interview with Mews, and we were mentioned. How nice of you!
Fanny: We found GuestJoy in the Mews Marketplace and as we are very satisfied with it, I'm more than happy to share our testimonial. Emerald Stay is the first prop-tech company to manage premium homes in non-urban destinations. We are an innovative hospitality company constantly looking for the best tech tools out there. The short-term rentals industry is quite a new segment within hospitality so it is not always easy to find the systems that completely fulfill our needs and adapt to all specificities of the market. We were looking for an online check-in solution and we are glad to have found GuestJoy! We would definitely recommend it to any hospitality company.
Flora: So what made you choose GuestJoy?
Fanny: Flexibility was a key decision driver. In GuestJoy, everything is completely customizable which is great. We have some very specific check-in procedures. For example, you may know that in Morocco, you are not allowed to host a Moroccan citizen in the same room as a person of the opposite gender if they are not married. So for legal reasons, we need to collect a wedding certificate in such situations. We needed a system that is able to integrate such specific requirements.
Another requirement for us was the scalability of the tool. GuestJoy allows us to grow. We are ambitious and we need solutions that can scale with our quick growth.
Furthermore, the price-quality ratio was one of the key things we looked at obviously. There are countless products on the market at a higher price compared to GuestJoy even though they offer the same features.
Last but not least, I would like to highlight the quality of the service we have received from Andrew and Kristin at GuestJoy – it is nice that you are a small, human company, open to considering new developments and very reactive. It is always easy to talk to someone.
Flora: We are really trying our best to provide creative and independent players. And of course we are proud of being fast both in replies and in implementation.
Fanny: Indeed and cloud tools are a must for us – we work with Mews Systems (a cloud PMS) and tools that easily allow us to work remotely whenever necessary.
Flora: On that note, what do you think about the daily job of a hotelier, how does GuestJoy help? 
Fanny: The automation part is just great. The less time we spend manually collecting check-in information from guests, the more we can spend on actual human interactions such as tailoring the services for their stay. We do not want our team members to complete repetitive tasks and/or something that technology would do better – we want them to be valued as human beings, completing tasks that cannot be automated essentially.

With the GuestJoy automated emails, we can ensure check-ins are completed and guests receive their property access code by email and by text message 24 hours prior to arrival. This way, they can let themselves in whenever they would like after 4 pm. They do not need to let us know if they wish to stop at a restaurant on the road or if they are late for whatever reason. Within 24 hours post-arrival, our team members will visit them, answer any questions they may have and share some local tips.
Flora: This is very smart. I have been on skiing trips with my family, and traveling with a child can really be a slower experience. We never arrived at the hotel/apartment on time, and this way your staff does not have to do overtime to wait for guests. 
Fanny: We like to challenge the status quo and do things differently if need be. We do things because they make sense for our owners and our guests, not because that's the way they have always been done in the market. For example, we do not force the guests to stay at our properties from Saturday to Saturday throughout the winter season like some other players do because that's not what they ask for.
Flora: What is the biggest change GuestJoy has brought to your property?
Fanny: Our operations team is divided into two parts. One is on-site in our destinations. They are the ears and eyes of Emerald Stay on the ground. They make sure that everything is seamless at the properties, they visit guests and they coordinate local operations. And then we have the centralized operations team in our main office in Barcelona. Before implementing GuestJoy, this team had to make sure we had all the right documents and information prior to each arrival. It took us a tremendous amount of time to manually contact each guest as you can imagine. Now it is a simple verification process!
Flora: What do you think the key trends are? What do you provide on the market that's new?
Fanny: I can not mention Covid-19. It obviously had a huge effect on the hospitality industry. We have noticed several trends which I believe will stay, not just in the short term. Overall people want flexibility and functionality. They seek flexible cancellation policies and often book at the last minute. They are looking for fully equipped properties so they can be independent during their entire stay. They may want to work remotely and need high-speed internet and screens (which we provide) – there is definitely a digital nomad trend.
Flora: I love to hear this. We are all for innovation, convenience and seamless guest experiences! As for my last question, can you tell us your story in hospitality and how did you end up at Emerald Stay?
Fanny: I studied International Hospitality Management and graduated in 2013. I have been working in short-term rentals ever since and have seen major changes in this industry. After spending 2 years in Brazil and 2 years in Spain working for an urban short-term rentals player, I joined Emerald Stay in Switzerland in January 2018. Prior to and throughout my studies, I worked at traditional hospitality companies such as The Ritz-Carlton hotels and smaller independent 4* hotels. But I must say I am fascinated by startups and growth. I was convinced by the model of Emerald Stay right off the bat and was their first employee. It's been a very interesting ride so far!
This post was written by Andrew Martin, GuestJoy's Customer Experience Manager
It started with an email from one customer.
"Andrew, four of our properties have been awarded Travellers' Choice 2021 from Tripadvisor; they have provided us with some graphics to use in our marketing. Can you suggest how we could incorporate these into our pre-arrival emails?"
Next, there was a post by a customer on LinkedIn: "Honored and proud! Apotek Hotel has been chosen as the "Travellers' Choice" Winner for 2021."
"Well that's really good!", I remember thinking to myself at the time. It was nice to see a some customers earn this recognition.
A few more popped up over the next couple of days – but this trickle soon turned into a flood 🌊
I decided that I needed to find out just how many of our customers had won. Cue a lot of manual work, but work that turned out to be well worth it.
In total, a staggering 70% of our customers earned this award across 23 countries. This. Is. HUGE.
2 of our customers were even listed in the top 25 hotels in Europe. Wow. WOW.
What is the Travellers' Choice designation?
To begin with, in Tripadvisor's own words:
Travel in 2020 looked different, to say the least. We stayed a little closer to home, hit the open road, took to the great outdoors, and saw our own hometowns in a new light. And millions of travellers everywhere shared reviews and opinions based on those places and moments that left an impression.

Our Travellers' Choice Best of the Best list is drawn from the experiences of the best experts possible: Real travellers who've been there before.

From family resorts to boutique charmers: the highest-rated stays around the world.

Tripadvisor
So in every market, Tripadvisor digs through all of their reviews. Only the properties with happiest guests, posting the best reviews, will earn the designation of Travellers' Choice.
What it means to be a Travellers' Choice winner after 2020
Tripadvisor said it well: "Travel in 2020 looked different, to say the least". Hotels needed to pivot and fundamentally adjust how they operate if they were to survive. Sadly, not everyone made it. We lost a few long-term customers to closure and bankruptcy.
"…the first guests to return became messengers. They were the barometer to all other potential guests as to whether they felt the hotel had "got it right" via the reviews they would leave."
But for those who managed to keep trading, getting it right was going to make or break their business. Travellers would decide if they felt comfortable; if the measures put in place at a property gave them confidence, and that they were still able to enjoy their stay. And this would be reflected in the reviews that they posted on Tripadvisor.
Enter: GuestJoy, and the complete guest experience
Staff are wearing masks. There's a perspex panel at the reception desk between guests and staff. Cleaning regimes have changed. All these changes are vital – but equally so is the guest experience, and GuestJoy proved itself pivotal for our customers and their guests.
Throughout 2020, timely, effective guest communication became absolutely crucial as situations changed and evolved from day to day. Hoteliers using GuestJoy had complete control of how they kept their guests informed – and it all happens automatically – as soon as a reservation is made.
Prior to arrival
The moment guests make their booking, they receive a confirmation email which is able to be customised with the content the hotelier wants them to see. This is a big step up from boring, plain-text emails, or emails where hotels can't customise the content (or worse – both!), usually sent by the PMS.
Guests choose hotels over short-stay accommodation for a reason – the opportunity to take advantage of little luxuries and experiences they might not have access to in their day-to-day life. But with the onset of the pandemic, a lot of the offers hotels might have presented their guests were often no longer possible. Hoteliers needed to innovate and provide guests with unique ways that they could enhance their stay.
And innovate they did! In 2020, we saw so many hotels coming up with new upsell and cross-sell possibilities for their guests, despite most of them needing to adhere to strict rules and guidelines. Through GuestJoy, guests were able to customise their stay with ultra-personalised offers and upgrades presented by their hotel. Almost ironically, many hotels using GuestJoy had some of their best upsell figures ever.
Contactless check-in
One of the biggest changes to hospitality in 2020 was the increased adoption of contactless check-in solutions. GuestJoy had offered online check-in for over a year by that point, but the pandemic was the catalyst the hospitality sector needed to finally move forward, and most hotels will not be going back.
Needless to say, guests have loved checking in online as well. A fast, safe arrival, without needing to stand in (now socially-distanced) queues is no longer just a nice thing – it's an expectation. After all, we've been checking in online for our flights for years now; why shouldn't it be the same at hotels?
Hoteliers discovered they too loved the efficiency of online check-in. The average guest spends 8 minutes at reception completing their check-in – and this doesn't include time spent standing in lines. This meant that over the course of a day, many labour hours were saved.
GuestJoy's check-in form is completely customisable, so that hoteliers can collect any information they need. Passport/ID scans, digital signature, data for accompanying guests, credit card details, terms and conditions, and any question they could think of – this endless flexibility is now so popular, that submitting check-in data is now the number one action completed on the GuestJoy platform 😮
During stay
I've seen so many ways that hotels have adapted to the changing conditions over the past 15 months. One of the most impressive were hotels who used GuestJoy to provide a digital guest compendium.
Understandably, the guest compendium is a complex cleaning touch point. It would take a lot of time to effectively disinfect; and guests might not even be confident that the compendium was clean, and avoid using it. Again, another example of hospitality adopting technology for the good of everyone, and many of our hotels will not be switching back.
During-stay feedback became more important than ever during 2020. Being able to reach out to guests throughout their stay to check if everything is going well provides hoteliers with an opportunity to potentially resolve issues while the guest is still at the property. Naturally, this is much better than finding out about said issues in the form of a bad review once the guest has left.
Post departure
This is the stage of the guest journey that became far more important last year.
Many hotels closed for a period, either due to government-mandated shutdowns, or such had low occupancy that it made no sense to trade at all.
Once hotels began to reopen, the first guests to return became messengers. They were the barometer to all other potential guests as to whether they felt the hotel had "got it right" via the reviews they would leave. These reviews in turn heavily influenced the choice that subsequent guests would make when choosing which property they would book.
This is where GuestJoy's post-stay feedback emails proved invaluable.
It's one thing to have a happy guest – but will they let others know about it? Thanking guests for their stay, and then inviting them to complete the Tripadvisor review right out of the GuestJoy email made it simple for guests to leave their opinions.
And remember, that's how Travellers' Choice is awarded – a high number of positive reviews posted. And almost all of GuestJoy's customers collect more Tripadvisor reviews via GuestJoy than submitted to Tripadvisor directly!
Coincidence? Well…
70% of our customers being designated as Travellers' Choice is absolutely amazing to hear, but at the same time, we cannot say we are shocked about it. The reason is because GuestJoy truly covers the entire guest experience.
Having separate systems in place at a hotel to cover everything that GuestJoy does will inevitably lead a poor guest experience; one that is jarring and frustrating.
Picture it yourself: You book your hotel stay and receive a bland email confirming your reservation. The hotel has already missed its chance to make a good first impression.
Next, you are prompted to enhance your stay with another email – one that looks completely different from the first. You're taken into a new environment that you need to learn in order to customise your stay.
You get notified that you can check-in online, which is great; but once again, the notification you receive bears no resemblance to the others you've previously received. You may even start to question which of these are genuinely from the hotel you're staying at.
Finally, you start the check-in process, only to be presented with another new environment to figure out how to navigate.
Once your stay is complete, yet another email – different from the previous ones, of course – asks how your stay was.
Do you want to force that upon your guest?
I'd hazard a guess and say no.
And that's not even taking into consideration the time involved to set up, train staff, and maintain each of those separate systems, let alone pay for them.
Finally, any system that only serves one purpose in this day and age is going to be redundant very soon. It just makes good sense to cover everything in one comprehensive platform.
An expected outcome
I mentioned earlier how I was happy but not at all shocked that so many of our hotels earned the Travellers' Choice 2021 designation.
To me, it is a sign that GuestJoy is merely doing what it says on the box. It's helping hoteliers around the world to provide their guests with a complete experience. One that isn't over-the-top with tech gimmickry, yet makes everything so easy and accessible.
To our customers who earned this accolade, I'd like to congratulate you all. You're doing exactly what you should be doing, and your guests have recognised you for that.
Some companies claim – rather baselessly – to be the number 1 in their field.
We'd rather just let the numbers speak for themselves 🙂📈
We hear the word modern every day, but what does it really mean? It means relating to the present rather than the past. It is new, contemporary.

Hospitality per se is nothing new. People for centuries have accommodated others, famous inns, hotels and vacation places have always had kind, smart and educated personnel who catered to guests. I think we should take pride in this. Hospitality is such an ancient profession, one with a great past – after all diplomats, monarchs, artists and celebrities of all kinds are constantly using our services, just as much as millennials, young backpackers and average families.


However, Hospitality can and should be modern!

There are so many aspects to that. From refurnishing, re-designing lobbies, receptions & renewing your menu (hey, catering to special diets is on the rise, isn't it?). Or offering more at your hotel than the traditional laundry services and minibar.

Consumer behaviour has changed drastically with technology on the rise. The new generation is all about the HERE & NOW, they are fast, impatient and want everything immediately (ugh 😫). However, it's not just that people expect information and services to be immediately available (and of course also available online). People who realized that the everyday computer rut took over their lives are also your customers. Slow lifers, who advocate slow travel still use their smartphones to book, but they represent very different modernity. This means hotel's need to digitalize.
Modern hospitality and hotels cater for the need of the modern guest. But how can a property adapt?


Personalization is key.
From Spotify to Instagram and even LinkedIn mostly – if not only – shows content that is relevant to the user. A lot of apps these days have personalized notifications, bits of information and recommendations that are tailored just for us. And let's be honest, we love it. We feel special because the algorithm knows what we want to see.
According to this study, 72% of businesses now follow a path to customization (as opposed to standardization) when delivering customer experiences.

The hospitality industry is no exception from this modern property uses tools or staff to make guests feel special, and cater to all their needs effortlessly. There are even academics from the École Hotelier writing about this. Modern hospitality means no bullsh@t, no time to waste, and all guest-facing services delivered smoothly.

However, we know that this is actually not at all smooth or effortless on the hotelier side. After all, you probably don't have time to analyze all guest bookings to differentiate between a family of four or four gal-pals travelling. What's the solution then?

Technology.

Just remember your own household 30 years ago and now. Assess all the changes in how you use the internet (both for work and entertainment). That all can be implemented in your hospitality systems too.
We all use mobile phones, tablets, and obviously, your booking system, hotel website and communication need to be working on all these devices as well.
Everything should be seamless and easy to navigate. Just like how you set up a Youtube or Spotify list, everything about your booking processes, emailing and check-in should be seamless and easy to use. Let's not forget, Millennials and Gen-Z aren't the only ones booking online, people at the age of 60-70 and on also have smartphones.
Our friends at Staah wrote a nice article about contactless technology and what it brings.
Self-service.

How many of us just order food. Instead of going to a restaurant. (Let's try to think beyond the need for delivery created by the lockdown). How many of us prefer to buy stuff online instead of going to a shop? It's convenient! It's easier, it's self-service. People like to do things 'their way' whenever they would like. Just like with the buffet breakfast, there are many other things you can make self-service in your hotel. Take the procedures of purchasing extras (upselling) or check-in.

If you present guests with the opportunity to purchase (online, in a form of self-service) your sales will only increase, because it's not as pushy as personally at the reception, or not as tacky as a flyer in the room.
The guest has the liberty to make the purchase from the comfort of their room/home, and they will if it's cleverly worded and of value.


Differentiate your hotel

.


Who do you cater to? Who is your main guest persona? What do they want? This also falls under the personalization category. Our Co-Founder talks all about this in her opinion piece. Each hotel has its own demographic, try to find out what's yours in terms of age, traveller type (business? romantic couples? touring elderly?). Then try to cater to that with your settings, food, digitalization and of course special offers. Andrew, head of Customer Experience jotted down his thoughts on that here.
But it's not just personalization in terms of service. Boutique and Concept hotels are on the rise! Just as funky concept hostels and apartments. If you have the finances to create something unique then this is your time to do so! The modern traveller will love it.
My key takeaways:

– Guest expectations have changed, we all use technology in our daily lives – hotels are no exception!
– Personalization is key – everyone wants to feel special.
– Allow guests to handle things on their own – self-service. It will also save you time and labour.
– Differentiate your hotel – why are you the best choice for your demographic in your area?


What is your take on modern hotels? What could be improved on your property? Let us know here or on social media.
Informing only certain guests about a one-time thing? We got you!
A new GuestJoy feature that can come in very handy during any event happening at a hotel. Whether it's a valentine's day offer or a new government restriction that applies to your property, if you'd like to inform your guests Announcements are a perfect way. 
So what are announcements?
They are a one-time email that you can send to a selected number of guests, based on the
Date range based on arrival & departure
All guests at your property on a certain date or date range
Reservation status (confirmed, canceled, or both)
For us at GuestJoy it's extremely important that hoteliers can take the most out of our platform, and the guest experience they provide is seamless, automated and useful. 
Let's go through a couple of examples why is this important for both you and your guests.
Roadworks:
It's annoying and loud just outside your hotel. You can inform your guests about alternative access and offer free earplugs for light sleepers.

Local activities:
Let your guests know what's worth seeing in your city, whether that is a museum, a festival or a Christmas market.
Covid restrictions:
Your guests are probably wondering whether your property is safe, what is your cancellation policy, and how can they possibly push their holiday at your property to a later date. You can inform them about all these in a simple email.
Re-inviting guests who canceled or stayed at your property earlier is also an option.

Your special date&time based offers:
Do you have some offers that are time and date specific? For e.g.: Valentines, Mother's Day, Easter? Would you like to upsell the last available seats/items? Just send out a little info about the offers.
Is it important to you to know how many people have seen your offers or are the announcement emails something crucial that your guests have to see? We have you covered! With the GuestJoy platform, you can see the results of how many people were reached a few minutes after sending, including those who have failed to receive your message.
It all requires very little effort on your part yet these emails are fully customizable, enhancing your brand with your own images and colors.  
Announcements can be really useful for personal communication, for offering help, to inform your guests about a cool event in your town and all in all, just give a human touch while being automated.
We released our old concierge three years ago and it has stood against time quite well, but finally, it was time to make it even better. Over the years we have gathered so much data on what works and doesn't work so we wanted to incorporate this into the new design.
To achieve this, we spoke with customers, revisited all the feedback we received over the years.
With the new makeover, we had following goals in mind
Modern design
Faster loading times
Fewer clicks for guests
The structure of the Concierge essentially remains mainly the same, but with modernised visuals and a focus on clarity and space and the customer for better conversion! The new platform has a responsive design, whether you are using it from mobile or computer, it will work perfectly and beautifully.


The first thing you'll notice is that guests are now able to check-in, upgrade their room or open it with a click via the buttons on top of the page. Check-in and distributing room codes online have become somewhat of a necessity these days as they are contact-free.



When your guest is viewing the Concierge on their computer, simply hovering their mouse over an offer will show them some of the offer descriptions, helping to raise their interest. This makes the platform more dynamic and helps in converting hesitant buyers.




Once they click the image, it opens up a full page, with a fresher, more user-friendly look (and we did not forget about GDPR 😉 ) There is also more content (information) on the screen which means less scrolling is needed. Guests can find anything they need a lot easier!




We are making your brand more visible, hotel colours are now emphasized. The clickable directions and info icons hold all the knowledge your visitors need to reach your location.


Don't forget to list all the great amenities your property has to offer.

All in all the concierge is a perfect place to sell your extras, inform your guests about various things regarding your property, and help all guests check-in online to skip queues and the 'human touch'.


What our customers say:

I really liked the new design, as it's sleek, modern and very functional (both on mobile and desktop). I then looked at the guest view of the current concierge, as it had been a while since I had looked at it and I must say the improvements really work!
The flip tiles really work, as they give a quick teaser/explanation on the upsells. We see it so often in the guest activity, that guests are clicking literally into each offer, which can be annoying if you are just browsing, so the new version definitely makes that easier! The guest can now really find everything in one place without having to go back to google.
Christine Ulmschneider, Menlo Park Hotel

I really like the fresh look and feel of the page. The new design is more clear and appealing. The offers showing more information with the flipping function is excellent, giving the guest more information without the need to navigate away from the Concierge page. The descriptions shown for the Directions will surely encourage the guest to tap for more information if needed. Overall the changes have given the Concierge page a very clean, crisp and professional look.

Matti Miettinen, Hotel Arthur
Interested in more?
Get in touch! We offer a 2 month free, no-commitment trial.
With its ability to streamline processes, provide valuable insights, and optimize experiences, artificial intelligence (AI) could drive the new wave of responsive, guest-centric hospitality.


---
While some remain skeptical, most hoteliers have – knowingly or unknowingly – embraced artificial intelligence (AI) to improve the guest experience and optimize revenue.
What is artificial intelligence?
Artificial intelligence, or AI, involves computer systems that perform tasks that require what we would refer to as "intelligence," or some form of thinking.
The concept has existed since the 1950s, but it is only in recent times that the technology has reached a point where it is considered reliable enough to be deployed in business processes. The data gained via this technology is utilized across a range of functions (even in the hospitality industry) ranging from basic customer service to personalization and sales.
Common uses of Artificial Intelligence (AI) in hospitality
Chatbots and messaging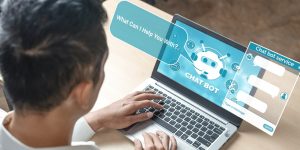 This is perhaps the most common application of AI in hospitality. This customer-facing technology is extremely effective when it comes to responding to simple questions or requests via direct messaging and online chat services added to a hotel's website, telephony, and social media platforms. This simple, but smart application has ensured your customer service is available 24/7 to respond to guests and convert opportunities into bookings.
A grander application of this aspect of AI is real robots that can talk to guests. Hilton and IBM created Connie for the hospitality group. This two-foot robot has been trained to provide information about local attractions and learns as it answers.
While the wider application of robots isn't on the near horizon, it has the potential to replace a number of repetitive human tasks in a hotel, bringing inefficiencies.
Personalization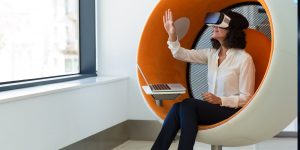 You can track the activities of your guests and prospective guests through their online activities. Combine this with surveys and information you collect through other sources, run it through a single data system that is enabled via AI and you will be provided with the ability to offer them unique, personalized experiences.
In addition, to offer guests a personalized experience, you can use this information to push special deals and local offers – all adding up to a better guest experience and increased revenue opportunities.
As you learn more about your guests, you can adjust a room experience to your guests' preferences, be it temperature, music, food, and more. Such tailored experiences tell your guests you care about them and increase loyalty.
You can use upselling platforms to seamlessly drive more revenue and upsell efficiently to their guests with tailored needs.
Hotels are combining this with smart devices to control lighting, TV, and other features in the room.
Big learning with data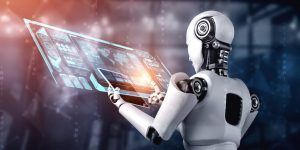 Another way in which AI is being utilized within the hotel industry away from pure customer service is in data analysis. In this capacity, the technology can be used to quickly sort through large amounts of data and draw important conclusions about customers, or potential customers.
For example, a hotel might use data to predict lulls in bookings and offer special rates to counteract them. They could also gather data on the food that guests order so that they know what to keep on the menu and what to pull off. They could use AI to predict what menu items might be popular based on previous visitor favorites.
Conclusion
The potential for AI to improve customer service is unlimited. What we see now is a fraction of what this technology is capable of. From front-desk, room service, valet service, cleaning, and maintenance to power management, there is no area where AI cannot be used.
It is also not something that is only for the "big guys". The beauty of AI is it is adaptable for all hotels to adopt – if not in its entirety, in some form or the other.
This article was brought to you by STAAH, GuestJoy's expert PMS partner.
Like any other meeting, I had this year, Josef and I met on Zoom first. I really wanted to catch him for a chat because all the innovation and rebranding happening around MEWS caught my attention. We spoke about innovation, what are the changes in the industry and his personal experiences in hospitality and at MEWS.
Flora: Can you start by telling us about yourself?
Josef: So I actually studied English and performing arts, I wasn't really sure where that would lead me. Then I found web design, graphic design and later programming.
My first role at Mews was developing innovative distribution technologies but due to the changing dynamics the pandemic brought to the industry and, as a result, Mews my role quickly became focused on building our B2B business via the Mews Marketplace and open API as Product Director.
My passion has always been traveling, visiting new places. So you see the map behind me? I am not allowed to scratch anything off on my own, only the places I visit with my daughters and wife. At the moment I live by the seaside, I love to swim and go paddleboarding even in this UK weather. 
However, I am originally from the Czech Republic. Prague is probably my favorite city, even though we left when I was 8. I am just very attached to it. We moved back there for a year so my kids could experience Czech school life and culture.
F: I also love the Czech Republic, my favorite place is České Švycársko, where I have spent a summer. 

Josef: That is marvelous, it's a wonderful part of the country. I actually have a close connection with that place, my dad is from around there. A fun fact: they filmed Narnia there. 
F: Tell us about MEWS. You are surely one of the most famous and innovative PMSs out there. What makes you so modern and innovative?
Josef: I would say that the main difference is the vision set by our leadership team and our constant desire to think differently about the guest experience. Our people here look at things from a completely different angle, and we push, push, push until we break through. 
There are countless features you can develop, and many trends to jump on, but to set the trends, that is difficult. It requires a lot of tenacity. The mindset of not being afraid to fail and keep going until it works is something that is part of Mews' culture and I think it's what sets us apart.

The amazing individuals of the team, Matt, Richard, our CTO Honza and CPO Jirka work extremely well together. You could almost call it a hybrid team, as half have had careers predominantly in the hospitality industry, the other half our experts in respective fields. That blend of hotel expertise and external industry expertise is a great way for us to constantly question the status quo but grounding that in deep hospitality knowledge.
We are always looking for new ways to improve. I feel lucky to work in a team like this.
Rather than chasing the creation of new modules, our API allows partners like you or anyone else to connect to any part of the PMS to provide expert functionality in specific areas. This is pretty amazing, it's open, and it's free
Flora: Indeed, actually our Development Team loves that about you. Hospitality works best if we are open and welcoming. Not just with guests, but technology-wise as well. We are all thriving to provide the best solution for hoteliers, why not make it open, so they can decide and connect whatever they need. As I speak more and more with hotel tech experts, it becomes clear that open, cloud-based platforms are the future. Open API, and a tech stack, as in hoteliers getting multiple products that work together smoothly.
Josef: And this is really the key to understanding what Mews is. We have our own ideas about how to shake up hospitality and we are taking our partners with us on that journey.
This is no secret, we would like to be as transparent as possible and allow everyone to access MEWS if they'd like to. 

Transparency is something very important for me. The first day I started working at MEWS I sat in on a meeting that had about 35 new starters and the finance team presented the entire revenue and expenses of the company. You don't get this with other companies, they usually like to keep that info to themselves.

This kind of transparency translates to everyone and everything else, we are comfortable saying: that we don't necessarily do guest messaging or upselling the best way, but we have many partners who have the technology and expertise for that. And we would like to empower those partners. 
The main thing is innovation and technology. Even in sales and marketing pitches we prefer to talk about the vision, the future and how we are simplifying hoteliers' lives and enabling them to deliver a much better guest experience. Of course this is part of GuestJoy's core initiative as well.

Our central message is that we are always going to be the most innovative product in the industry, and we are changing the industry, just like how online-check in and upselling changed the airline industry. 
Flora: How do you see GuestJoy and MEWS working together in the future? 
Josef: Partnerships are extremely important for us, as I mentioned we like to enable our partners, that is why we focused on the API, full automation, so MEWS could work like an app store, where the hotel can access your software with a simple click. Ready to use. That is where we need to get to in this industry.
This is how we could work for smaller hotels, our products complementing each other, they might not need all the features, but we know that many of our partners do certain features much better than us.

Flora: What would your advice be to hoteliers in this strange world?
Josef: Hang in there. Everyone is waiting to be able to travel. Of course at the moment it is tough to decide whether to shut your doors or stay open and how to handle your staff.

Now the key is how you manage your assets, and there are many properties out there from private hotels to large franchises to rentals. Hang in there, use this time to make sure you can automate operational tasks once everything starts up again. Look at the manual processes you do, your distribution models and marketing.

If you are spending less time on these tasks, you can engage people to book with you directly, and spend more time on your marketing. Not to mention cross-train your staff, and be busier with upselling. 
With all this you could squeeze out more revenue and decrease your distribution costs overall.
If I had a hotel – my ultimate goal, I would love to own a hotel myself. I know that in a way I am being naive about the different challenges that hoteliers face every day, but if I had a hotel I would find it extremely difficult to operate. 
However, I would remind myself that people want to travel. We saw it during the summer, as soon as the lockdown lifted people went on traveling. They were streaming to get out from where they live. 
Flora: So if you owned a hotel what would it be?
Josef: A 30-50 bedroom luxury boutique, city center Prague. I left when I was 8 but I will always have a connection with that city.