Online check-in completely transformed the Airline industry. Until now, the hospitality sector has been slow to follow. One reason has been the lack of strong business needs, but also the complexity of the project. But as guests are demanding it, more and more hotels are embracing this technology.
Each hotel is unique and there are many PMS vendors out there. This makes it very challenging for the hotelier to start planning their digital transformation.
In this article, we'll give you an overview of how to go about selecting the best check-in solution for your property. It's by no means a comprehensive guide, but it will at least provide you with some general guidance!
Background
From the perspective of your guests, the hotel check-in process has been the same for a very long time:
All this can take a lot of time, and if your guest had a long journey to make it to your property, this is not what they will want. I don't care if you have the best smiles in town. They just want to get into their room.
In the ideal scenario, guests will just enter their details before actually arriving at the hotel, in order to avoid this tedious experience.
Then, the hotel provides them with all the necessary details like breakfast arrangements, safety rules and also door access.
Prior to COVID-19, many hoteliers were feeling that by going digital, they would lose their personal approach.
But, in our new reality, guests actually prefer it. For guests, it's about convenience, the speed of the process, safety, and freedom to choose when to do it.
For hoteliers, it's about saving on costs, but also increasing customer satisfaction. Handling each guest manually is a labor-intensive process, and during peak times can account for many man-hours.
Going digital
As with any project, you need to define your goals for what mobile check-in needs to do for you. What do you want to achieve?
Collect guest data to speed up the check-in process
Need to collect credit card details for payment
Ability to upgrade the room or other services
Open doors or distribute key codes
By looking at each stage separately, we can start understanding which solution is most suitable for your hotel, as each feature comes with caveats and costs.
Next, we will look at each key component separately to make it easy to understand the project.
PMS integration
For mobile check-in to work, guest data needs to be in the PMS in a timely and correct manner.
This means the solution needs to be able to get data from the PMS, and ideally, also send data back.
Many PMS vendors support connections with 3rd party systems. This is most commonly done via API. The better and more open the API is, the more solutions you'll be able to choose from.
Unfortunately, many PMS vendors (especially on-premise ones) lack suitable interfaces. This means that even if you want to go on implementing mobile check-in, you actually can't. So having a closed PMS can prevent you from modernizing your hotel.
Key questions:
Does my PMS have an open API?
Can check-in providers send data back to my PMS?
Is there a fee for using the API?
Can all vendors integrate?
Good PMS vendors with open API
Check-in form
Hotels have different needs when collecting data from guests. These may include:
Verification that the reservation is correct
For analytical purposes
Government requires it
Marketing purposes
Upselling
You as a hotelier will probably want to convert the existing paper form into a digital one.
This means the check-in form editor needs to be highly customizable so that you can create any field in your check-in form.
Otherwise, you won't be able to fully replace the current processes without making compromises or going against government legislation.
Look for vendors whose customization options aren't going to limit what you can achieve.
Key questions:
Can I customize all the fields?
Will the design match my brand?
Can I include a marketing opt-in?
Can the guests digitally sign the check-in?
Can the guests provide scans of their passports/IDs?
Can they also check in accompanying guests?
Payment
Guest reservations can be paid in advance, but in many cases, they are partially paid or the guest needs to pay fully on-site.
Even if the payment is made fully, you still might want to get the guest's credit card details if they order services or accidentally break something.
This means obtaining guest credit card details is a must in many cases.
But the term "credit card payment" can have different meanings:
Asking for the card details using a form
Verifying that the credit card is valid
Reserving funds in advance
Making the actual payment
Try to decide on what you want to achieve before approaching different vendors, because when you accept a payment, you also pay commission to payment gateways, and in many cases to the check-in provider.
Key questions
Will the mobile check-in be available only to paid customers?
Do my guests need to do payments?
What is the payment gateway commission?
Does the check-in provider take a commission?
Door access
The biggest challenge with all mobile check-in providers is how the guests open the door.
Many hotels all over the world use door systems, which very few systems can integrate with. Or even worse, they use physical keys.
This means digital solutions have a tough time making the process completely contactless.
Ideally, door locks should also be modernized, but there are ways of going digital even without costly upgrades.
Many properties start their access system modernization with a single floor or a room category. This means all guests who use online check-in will always end up there. Then slowly build up from there and modernize the entire property.
Also, many options can be combined so that you have a key card with the PIN code, for instance.
Links
Key cards
The most commonly used solution in hotels. The trouble with these solutions is, that they offer only limited connectivity options with external systems, and they are expensive.
ASSA Vingcard, which is very popular, does provide its own app for door access. When you want to go with this option, then you either need to hand out keys physically in the reception or have a kiosk that dispenses cards.
Bluetooth upgrade
Another solution is to retrofit existing locks with a Bluetooth-enabled module, so you can run the existing key card-based system in parallel.
This means you can provide the convenience of the contactless door opening without the need to do costly upgrades like changing locks or even doors, and still keep your existing key card setup.
Doors can then be opened using an app on the guest's phone, or through a centralized web application that is able to open doors.
Example module, that will be fitted inside the lock.
The beauty of this solution is that visually there will be no changes made to the door.
Useful links:
PIN code
This has been used extensively in the hostel and vacation rental worlds.
The PIN option means guests can enter the room even if their phone is dead, or they lost the key card.
These PIN codes are managed over WiFi and work in the same way as a key card.
A PIN is assigned to a door with a lifetime. This means previous guests won't be able to enter the room past their departure date.
Also, you can assign a master code for hotel staff.
Quite often these doors have WiFi connectivity, which is very convenient if you have a smaller property with good WiFi access. All doors can be controlled through a centralized management interface.
Physical keys
Many smaller properties still use physical keys and there is no real business benefit to changing them. You could use storage boxes with code access to store keys; not an ideal solution, but a good intermediary step.
If your property is small, you can prepare the keys in an envelope or PIN code safe and give instructions via email.
Key questions
What is the one-time upgrade cost?
What is the monthly cost?
How secure is it?
For Wifi & Bluetooth-enabled devices, what is the battery time?
Can third-party systems connect to your access system?
Solutions
Here we look at different solution types that are out there. Naturally, each vendor has its own nuances. There are many different solutions out there. Each one has its pros and cons.
Web-based solutions
These are solutions that don't require anything to be installed by the user. Just a click from the email, and it all works.
The benefit of web-based solutions is that you can get them up and running very easily, and the upfront cost in terms of time and money is significantly lower.
Many PMS vendors already have some degree of functionality in this area, but you can use third parties who specialize in this.
Pros
Easy to implement
Cost-effective
Very easy to use for guests
No compatibility issues
Cons
Difficult to open doors without an upgrade
Requires guest emails
These solutions can be easily complemented with a kiosk with a web-based solution.
Check-in kiosks
Many hoteliers opt for kiosks because of their physical appeal, and people are accustomed to using them in airports. You put them in the lobby, direct guests to use them, and they generally work well.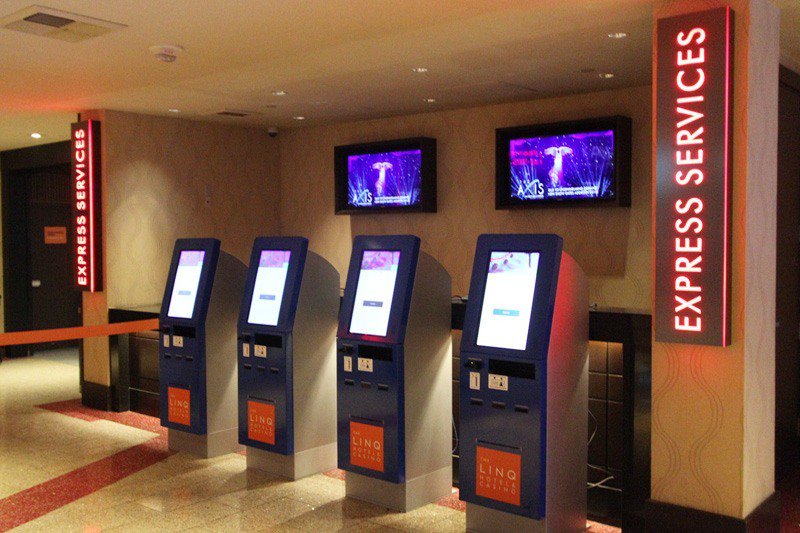 Pros
Good if you need to dispense key cards
Accessible for guests without an email address
You know for a fact that the guest is at your property
Cons
Unless you have many of them, from the guest's perspective, no added value
Quite expensive to implement
Higher maintenance cost
With check-in kiosks, hoteliers get the benefits, but not the guests. They still have to wait in the lobby, and kiosks are yet another contact point guests will want to avoid.
Mobile app-based solutions
The market is full of providers which enable guests to check-in, upsell, or provide feedback on their apps. Apps have the added benefit of working offline and have a very visual experience.
But there is one "gotcha"- guests need to download the app.
And that poses a significant barrier. BUT, that does not mean it is a bad idea. If your hotel chain is big and you have a lot of loyal customers, then it might make sense for you to take this route.
Pros
Very interactive guest experience
Offline capability
Can potentially open doors
Cons
Huge install barrier
Phone compatibility issues
More complicated setup
Conclusion
There are many different types of solutions out there with different price ranges. And sometimes the limiting factor can be completely something else like your PMS lacks the connectivity options or door locks are outdated.
You, as a hotelier, need to decide how far you want to take the experience. Everyone wants a Tesla, but we all have a budget. That is why define your end result and start going step-by-step.
Recommended door lock vendors